Need help deciding which tank you need for your Red-eared slider? We cover the top ones in this guide.
You'll learn:
What size tank do I need?
What are the best turtle tank options?
Are there any alternatives to a traditional glass tank?
How do I set up my new tank?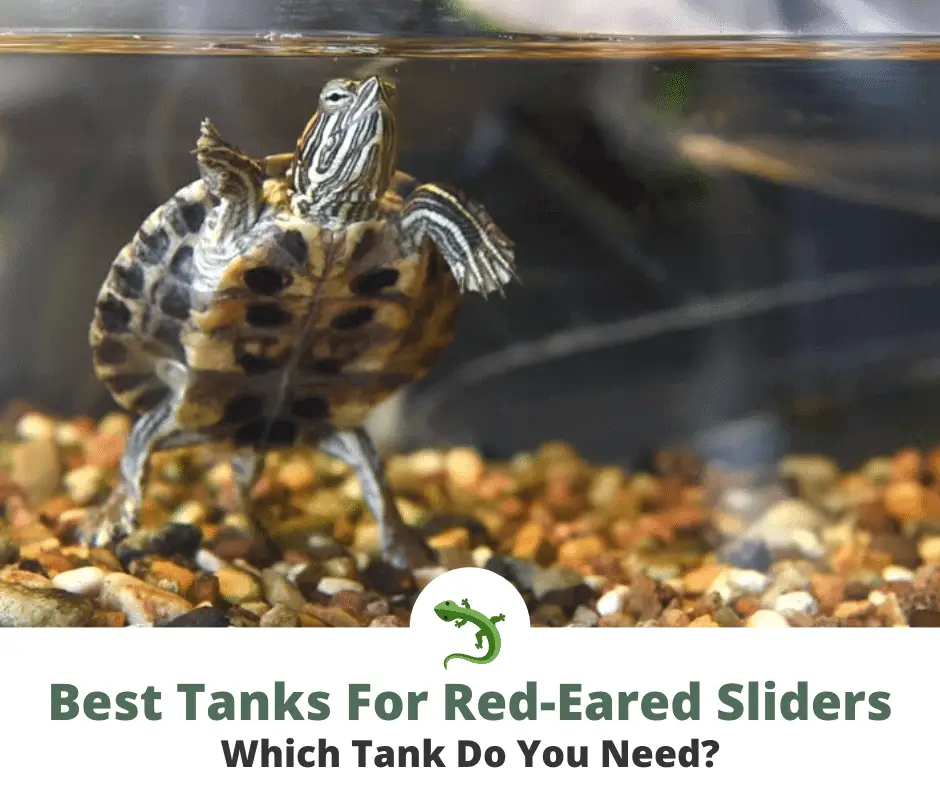 Red-eared sliders (RES) are the turtles that we often see sold in pet stores known for their familiar red stripe along their heads. Many think that they are easy to care for but like most reptiles kept as pets, they have very specific requirements regarding lighting, temperature, and their tank for them to have a healthy and happy life. 
Setting up the habitat for your slider often starts with a good tank. We've gathered five great tanks here that vary from small starter tanks to full-sized tanks and reviewed each one to help you with your decision. There's also a quick guide on tank setup and basic turtle care below.
Image
Product

Tuff Stuff 64-Gallon Oval Tub

64 Gallon

Plastic

36" W x 36" L x 19" H

64 Gallon

Plastic

36" W x 36" L x 19" H

Check Price

Tetra Aquatic Turtle 20-Gallon Kit

20 Gallon

Glass

30" L x 12" W x 12" H

20 Gallon

Glass

30" L x 12" W x 12" H

Check Price

Aqueon Aquarium 20-Gallon Long Tank

20 Gallon

Glass

30.25" L x 12.5" W x 12.75" H

20 Gallon

Glass

30.25" L x 12.5" W x 12.75" H

Check Price

Tetra 55-Gallon Aquarium Kit

55 Gallon

Glass

51.90" L x 24.40" W x 16.40" H

55 Gallon

Glass

51.90" L x 24.40" W x 16.40" H

Check Price

Landen 59.4-Gallon Rimless Tank

48 Gallon

Low Iron Glass

35.4" L × 17.7" W × 17.7" H

48 Gallon

Low Iron Glass

35.4" L × 17.7" W × 17.7" H

Check Price
🏆 Our Overall #1 Top Pick
Tuff Stuff Products Oval Tub
This is an unexpected tank for first-time red-eared slider owners, but trust us, this is the ideal solution. It's a crowd favorite among the turtle community and our team swears by them.
It comes at a great price, it will last forever, and it won't break! If you're serious about raising and keeping red-eared sliders, this is the Professional's choice.
Top 5 Best Red Eared Slider Tanks Reviewed
What Size Tank Do I Need?
Choosing the correct tank size usually depends on how big your animal gets and how fast it grows. 
Get a big tank early on because it doesn't take too long for a red-eared slider to grow – it'll also mean more savings in the long run. Plus, bigger tanks are easier to clean and turtles can be very messy pets!
How To Calculate Tank Size
A good rule of thumb for turtles is to allot 10 gallons of space per inch of shell length. This is measured from the tip of the shell until where the tail is, ignoring the curve of the carapace on its back. The minimum for hatchlings is usually a 20-gallon tank.
Red-Eared Slider Size
Red-eared sliders can get as big as dinner plates with a maximum size of 12 inches (30.5 cm). Hatchlings are usually 1 inch long and can grow to about 3.5 inches after a year. Adult males are typically 8-10 inches and females are larger at 10-12 inches.
📚 Read More >> How Big Do Red-Eared Sliders Get?
Red-Eared Slider Growth Rate
Red-eared sliders will grow about 3.5 inches in their first year and then an inch per year after that. However, this maximum growth rate is affected by a lot of things like genetics, nutrition, and habitat so make sure you have a big enough tank that's set-up correctly to maximize your slider's growth and ensure its health.
Does Sex/Gender Affect Size?
Female red-eared sliders are larger (10-12 inches) than males with a short tail and shorter/smaller front claws used for digging eggs and making shelter for their young. Males are shorter (8-10 inches) with thicker tails and longer front claws. These turtles usually grow and mature sexually faster in captivity; in 5 years for females and 3 years for males.
In choosing a tank for your red-eared slider, keep these points in mind: 
They will get big, so prepare to either upgrade along the way or buy a big tank at the start.
Turtles are messy. Look out for tanks with good builds since you will have to clean them thoroughly from time to time. 
Turtles will need extra attachments (heating and lighting) on their tank so take note of how you will set these up on the tank you choose.
The tanks reviewed below will give you a variety of options to choose from depending on things like budget, life stage of your turtle, and aesthetics. If you're starting out and do not want to spend too much yet, there's a good starter tank with everything you need that is perfect for a red-eared slider until it is about a year old. If you already have some equipment, there's also a budget 20-gallon tank option. If you're ready to upgrade, we review three big tanks: a good looking 55-gallon tank that comes with essential equipment, a sturdy foam/rubber tank alternative, and a premium 48-gallon tank you can upgrade to if you intend to use some of the equipment from a smaller tank you already have. 
Overview
A great, heavy-duty alternative to a glass aquarium that's easy to clean and move around. It's a no-nonsense tank alternative for your turtle that is large enough to give it room to grow. This Tuff Stuff Tank is perfect if you want to set up the turtle tank on your deck or yard to resemble a pond. It has a seamless construction so it's pretty durable and weatherproof and comes with a drain plug for easy cleanup.

Features
Seamless construction made of durable structural foam (molded polyethylene) with an 64-gallon capacity. The tank measures 36″ W x 36″ L x 19″ H and has a built-in oversized drain plug and an anti-siphon float valve to help maintain constant water levels.
Specifications
| | |
| --- | --- |
| Capacity | 64 Gallons |
| Dimensions | 36″ W x 36″ L x 19″ H |
| Weight without water | 20 lbs |
👍 Very durable and well built. It will last forever.
👍 Easy to clean with a drain plug.
👍 Has a large capacity and is wide and shallow which is perfect for large turtles.
👍 Can be used indoor and outdoors
👍 Darker, living space (no see-thru glass) is less stressful for turtles.
👎 Requires a creative setup for heating and lighting fixtures as the standard ones will not fit.
Overview
An excellent starter tank for smaller or younger turtles (3-4 inches) that has everything you need out of the box (even bulbs and fixtures). All you really need to add is a heater (if needed) and your turtle. However, because of its small size, you may eventually need to upgrade to a bigger tank down the road as your turtle ages.

Features
A 20-gallon glass tank (30" x 12" x 12") with a full starter kit that includes a screen top, a decorative waterfall filter with 3 cartridges, a basking platform, two 5.5 inch dome heat lamps with bulbs that attach to the screen top, a plant mat, Tetra's AquaSafe water conditioner, and even food! (ReptoMin Baby Floating Food Sticks sampler).
Specifications
| | |
| --- | --- |
| Capacity | 20 Gallons |
| Dimensions | 30″ W x 12″ L x 12″ H |
| Weight without water | 41.44 lbs |
👍 Great kit that is easy to set up with all the essentials so it's good for first time owners with younger red-eared sliders or smaller turtles.
👍 Basking platform included is designed like a bridge making it easier for smaller turtles to climb on (as opposed to floating ones).
👍 Filter is designed like a waterfall so it looks natural 
👎 Size is only good for young turtles that are at most, 3-4 inches long; even smaller if you strictly follow the 10 gallon/inch shell length guideline. 
👎 Sliders will outgrow this tank after about a year.
Overview
A good, simple, starter glass tank that is oriented longer for more horizontal swimming space for your turtle. It is well made with clean silicone edges and black trimmings. The shorter height also makes it easier to clean and maintain. The screen cover (sold separately) is rigid and well built, able to withstand high heat and even the weight of curious cats.
Features
This Aqueon tank is the "long" version with dimensions: 12.50" L x 30.25" W x 12.75" H that provides a lot of swimming or roaming space. It has black trimmings and clean silicone edges with quality construction made for both freshwater and marine applications.
Remember
This tank does not come with a lid and red-eared sliders are known escape artists.
The Zilla screen cover fits well on this tank and has a hinged feeding door for easy access. The steel frame is rigid and durable. The steel mesh structure is made to withstand high temperatures from heat bulbs as well as allows for good ventilation.
Specifications
| | |
| --- | --- |
| Capacity | 20 Gallons |
| Dimensions | 30.25″ W x 12.5″ L x 12.75″ H |
| Weight without water | 22 lbs |
👍 Tank is a good balance between size and capacity with the longer width of the tank providing a lot of horizontal swimming space.
👍 Shallower tank height makes it easy to clean.
👎 Tank lid is sold separately.
👎 Does not include an aquarium kit.
👎 Sliders will outgrow this tank after about a year.
Overview
A very large and spacious tank that your adult or full-size turtle will truly enjoy. It comes with almost everything you need out of the box and is fairly easy to set up. Additional purchases you may need are substrate, tank furniture, extra water conditioners, and the basking platforms your turtle will need as this is marketed as a fish tank. All in all, this is an excellent upgrade to get for your adult turtle with lots of space for you to get creative in building its habitat.
Large tanks like this require a sturdy platform or aquarium stand. This tank with 55 gallons of water will weigh over 500 lbs, so it's extremely important that it sits on a sturdy platform.
Features
A large 55 gallon tank (51.90″ L x 24.40″ W x 16.40″ H) made with 3/16" tempered glass. It comes with everything you need to get started: a water chemistry regulator (EasyBalance Plus), fish food (TetraMin), water conditioner (AquaSafe), 6″ fish net, 200W heater, Whisper 60 Power Filter, stick-on digital thermometer, 24″ Tetra hinged hood (2 pcs.), 2 plant multipacks, and a boxwood plant. An LED light system is also included to mimic natural daylight. The tank weighs approximately 79 lbs on its own and with the addition of water can reach up to 521 lbs so prepare the stand accordingly or purchase the recommended one from the manufacturer.
Specifications
| | |
| --- | --- |
| Capacity | 55 Gallons |
| Dimensions | 51.90″ W x 24.40″ L x 16.40″ H |
| Weight without water | 79 lbs |
| Weight with water | 521 lbs |
👍 Large size will help with less cleanup and water quality maintenance.
👍 Comes with a water filter and heater.
👍 55-gallon size is great for adult sliders.
👍 High-quality build and finish
👍 Built-in LED lighting (not a heat lamp replacement)
👎 Tank stand sold separately.
👎 Filter can be noisy if tank isn't filled up all the way.
Overview
Highest quality, well crafted, tank with clean silicone work on the edges that is made of heavy-duty, crystal clear glass. It's perfect for a beautiful and functional aquarium set up that is more or less big enough for your red-eared slider. This tank really stands out and is meant to impress. This is the Cadillac of glass enclosures.

Features
Made of thick, crystal clear, low iron, glass (10 mm, 0.4") with greater than 91% transparency. The tank dimensions are 35.4″ L × 17.7″ W × 17.7″ H. It weighs 85.8 lbs and comes with a Black Nano foam leveling mat.
Specifications
| | |
| --- | --- |
| Capacity | 59.4 Gallons |
| Dimensions | 35.43″ L × 19.69″ W × 19.69″ H |
| Weight without water | 98.6 lbs |
| Application Style | Fits into standard threaded sockets/light fixtures and can be oriented vertically or horizontally |
👍 Rimless option can offer more customizations on how you want your tank set up.
👍 Made from heavy-duty 10mm glass which is very clear and has a 91% transparency rating.
👍 Includes a Black Nano Foam leveling mat.
👎 Tank is heavy so you will have to provide a very sturdy base.
👎 The height is taller which tends to make it more challenging to clean.
Glass Aquarium or Tub?
Turtle tanks can either be glass or acrylic aquariums or tubs made of plastic or rubber. You should take time to evaluate what would be best for you and your turtle because setting up a proper tank will not only keep your pet happy but also make it easier for you in terms of maintenance and clean-up.
Aquariums
Aquariums or glass tanks are the most common option found in pet shops. They usually come with a starter kit that has useful tools like a water tester kit, conditioner, and a filter. These are pricier but provide the best aesthetic as it will let you see your turtle and its habitat. Since glass is heavy, aquariums can be hard to clean thoroughly if you need to take them out and can leak through the sealants if they're not well made. 
Tubs
If aesthetics are not your top priority then a rubber or plastic tub is a good alternative. These are often cheaper, studier, and easier to move so you can bring it out in your yard and give it a good scrub.
Drain holes can be included for easier cleaning up but make sure these are installed properly to prevent leaks. However, tubs (e.g. Rubbermaid) have limited sizes and dimensions (biggest is about 50 gallons) and most fixtures for reptiles (long fluorescent light tubes, suction cups for basking lamps, etc.) will not be made for these tubs. Often, you'll have to improvise a bit to set these up.
Tubs can also "bow" when filled with water as they are made of more pliable material compared to glass aquariums. 
How To Set Up Your New Tank
While setting up your tank, keep in mind that turtles like to dig stuff up and move things around so it's best to reduce the clutter and maximize the space of your tank. Always opt for the bigger-sized tank since this affects your slider's maximum growth and its overall health. Bigger tanks will also be easier to clean. The guide below will help you with each aspect of your tank and give you tips on how to set it up for the benefit of both you and your red-eared slider.
What You Need
To set up your red-eared slider's tank, you will need the following:
Maximum size of your red-eared slider and if you plan on getting more than one turtle and/or add fishes in your tank. More tank inhabitants require bigger tanks.
An appropriately sized tank. 20-gallon tanks tend to run small especially for red-eared sliders so 40 gallons and up is the recommended tank size.
A heavy duty filter
Water conditioner/dechlorinator
Aquarium water test kit to check the quality of your water
Thermometer to monitor the water and basking area temperature
Heat/basking lamp and a UVA/UVB lamp
Basking area or floating dock
Plants and other decorations
Optional: water vacuum to help clean the bottom of your tank
As needed: water heater
Adding Water
The water in your turtle's tank should be twice as deep as the turtle is long. For a 4 inch turtle that's about 6-8 inches of water depth. In a long 20-gallon aquarium (30″ x 12″ x12″), that's about 9 gallons of water.
Before you add water in your tank, make sure the tank is clean and that your water has been treated (chlorine and chloramine free). For most tap water, you can leave it to "sit" in the tank for a few days for the water to release its chlorine content. However, it's still best to add a water conditioner or a dechlorinator to get rid of chloramine. 
Filtration
Since turtles can get quite messy, you need a good filtration setup for your tank. With a strong power or canister filter, you won't need to clean the tank manually as much.
Make sure to get a heavy-duty filter rated to work with double the volume of water you intend to use. However, you will still have to change at least 25% of the water regularly even with a filtration system to maintain cleanliness.
📚 Read More >> Best Turtle Tank Filters
Maintaining Water Quality
An aquarium kit will include a tester to check the levels of certain harmful chemicals in the water. For turtles, these levels measured in parts per million (ppm) for the following water quality parameters should be maintained:
Chlorine and chloramine: 0 ppm 
Ammonia: 0 ppm
Nitrite: 0.5 ppm or less
Nitrate: 40 ppm or less
These harmful chemicals build up in tanks when the good bacteria in the water cannot keep up with the amount of waste being produced. The good bacteria helps keep a good "nitrogen cycle" in your tank by breaking down ammonia which is a byproduct of waste (and is very harmful to your turtles and fishes) into nitrite and finally, into nitrate (which is less harmful). 
If there's too much waste, there's too much ammonia for the good bacteria to break down causing an imbalance in the cycle. Keeping your tank's water clean by vacuuming leftover food and other debris regularly, replacing 25% of the water weekly, and having a good filtration system in place will also help maintain the water chemical levels. Bigger tanks will also make it easier to maintain water quality as there can be more water to dilute wastes.
Maintaining Proper Temperature
Maintaining the proper temperature in the tank is important for your slider because they are ectotherms (cold-blooded) and rely on the temperature of the environment to regulate their own. The water temperature should be 75-85°F with a basking area at 85-95°F (around 60-65°F at night with the lamp off). 
Sustained water and air temperatures below 70-72°F can make your turtle unhealthy as lower temperatures slow down its metabolism. Monitor the water and tank temperature regularly using a thermometer. If you need to use a submersible aquarium heater, make sure you test the water temperature first before putting your turtle in. Consider hiding the heater behind something in the tank so your turtle doesn't accidentally dig it up and injure itself.
Read Also >> Best Turtle Tank Water Heaters
Adding An Ultraviolet Light
You will need to add an ultraviolet light source (UVA/UVB lamp) in your tank even if it receives direct sunlight to make sure that your turtle is getting enough vitamin D3. UVB light helps reptiles like turtles synthesize or create vitamin D3 which is needed to help them absorb calcium for good bone development. It also helps improve appetite and overall health. Get a good UVA/UVB bulb and place it near the basking area where your turtle can be close to it. Make sure to replace the bulb regularly as they lose efficiency over time. It is also good to let your turtle get sun – just make sure it won't crawl off and escape in your yard or become too overheated.
Create A Basking Area
A basking area with a heat lamp is essential for the health of your turtle to help it regulate its body temperature. If your tank size can accommodate it, create a basking area by stacking smooth rocks or sloping large, smooth, gravel on one side to create a beach or land area that will stay dry. Otherwise, you can purchase a wood or plastic floating turtle dock. 
Make sure that your turtle can easily climb onto your basking area and that it's not too close to the lamp to prevent it from getting wet or your turtle from getting burned. Basking areas can be useful to help tell you if the water is too cold for your turtle. If it is spending a lot of time in the area then maybe the water is too cold or your turtle may be ill or gravid (pregnant).
Add Decorations
A good tip on decorations is to keep them functional like a nice basking platform to keep your turtle warm or aquatic plants that can help maintain good water quality. Keep your tank uncluttered (especially when you have a smaller tank) so it's easy to clean. Turtles are active, so they can knock things over, push stuff around, and even dig up plants causing a mess. Larger stones and driftwood can also work as functional decorations.
What Types Of Plants Can I Add To My Tank?
Plants are a good way to make your tank look more natural. You can add fake plants or live plants, keeping in mind that live plants will need extra care. If you have a larger tank, plants such as vines can be a good way to hide the wires, tubes, and equipment in your tank. 
Plants can also help maintain good water quality by taking up excess ammonia, nitrite, or nitrates from the water and contributing more oxygen. However, turtles do eat plant matter and can uproot plants making it more difficult to clean. Live plants such as hairgrass are low maintenance and don't taste too good for turtles while anacharis, water lettuce, and water hyacinths can be eaten. Avoid water hemlock, milkweed, and ivy as these are toxic.
Which Decorations Should I Avoid?
Avoid tank decorations that are small and can be ingested by your turtle. Smaller substrates should also be avoided for this reason. Submerged decorations that are too heavy can trap your turtle underwater and cause them to drown. It is best to keep decorations at a minimum anyway since your turtle may dig or dislodge them. Also, extra decorations require more cleaning. 
Cleaning
Turtles are known to be messy (they poop a lot!) so keeping their tank clean will require some work like clearing out uneaten food and debris from the bottom of the tank regularly, changing about 25% of the water weekly, and a monthly thorough cleaning. A good filtration system will reduce the frequency you need to clean the tank and help maintain the water quality but you still need to change some of the water weekly to maintain cleanliness. This will also prolong the life of your filter.
Common Tank Mistakes
A common tank mistake is getting a size that's too small for your turtle. Make sure you get the correct tank size and always remember that bigger is always better for turtles. Another mistake is getting a poor filtration system that will result in mess building up more frequently. 
Minimizing mess
Turtles can get quite messy but there are ways to minimize this. The best way is to have a good filtration system installed in the tank which will do much of the cleaning for you. You can also use a separate container during feeding to lessen uneaten food pellets that can overload your filtration system. If this is not possible, make sure you vacuum out or fish out uneaten food in the tank every week. Adding algae eaters such as Ghost Shrimp can also help.
Preventing a cloudy tank
Cloudy tanks are a sign of poor water quality. Usually, there is not enough "good" bacteria in the water to clear out some of the waste allowing ammonia, nitrite, and nitrates to build up. This is less likely to happen with bigger tanks that can hold more water but installing a filter, vacuuming, replacing part of the water every week, and using a water conditioner will prevent a cloudy tank. 
📚 Read More >> How To Fix Cloudy Turtle Tank Water
Another cause may be "hard water" or water that has a lot of lime/calcium carbonate. If a white powder develops on the side of your glass tank then this is a sign that the water is hard and may require extra conditioners. An additional carbon media filter will also help clear out the water.
FAQs
Can turtles drown?
Yes, they can drown since they also have lungs similar to mammals and only hold their breath underwater. They are, however, strong swimmers. Turtles, like red-eared sliders, will not drown as long as they have a ledge, basking spot, or floating deck to rest on.
Can turtles live in tap water?
Yes, though turtles are not as sensitive to water quality as fishes, they can still be irritated by substances such as chlorine, ammonia, and nitrites. If you opt to use tap water, make sure you dechlorinate it or use water conditioners available in pet stores. 
What fish can be kept with red eared slider turtles?
Keep in mind that red-eared sliders will prey on smaller animals so they will try to eat most fish with them in the tank. Bigger fish like koi or plecos may endure them but they may still get their fins bitten from time to time. Get smaller, easy to replace, guppies or algae eaters that are fast. Goldfish and minnows are also good choices since they are cheaper to replace. If you plan to keep fish in your turtle tank, make sure you have a big tank with lots of areas for your fish to hide in like rocks or plants. Also, make sure that your turtle is well fed so it doesn't try to snack on your fish.
Can I put an algae eater in my turtle tank?
Yes, but consider getting large apple snails as an alternative to fishes. Your turtle will likely try to eat smaller fishes and snails. For fishes, consider Gold or Chinese Algae Eaters that live for 1-2 months and are skittish, so they can avoid being eaten by your turtle but will help keep the algae in check. Other options include: Algae Eating Shrimp, Ghost Shrimp, or Plecos (armored catfish).
Can two red eared sliders live together?
Yes, provided that you have a tank that is big enough to house them both comfortably. However, if one turtle gets bigger than the other, there may be a tendency for the smaller one to get bullied as they can get territorial. If you keep three and one of them is a female, the males will also fight. 
Can turtles breathe out of their butt?
Yes! It's not technically "breathing" as we know it (inhaling and exhaling air) but a form of diffusion called "cloacal respiration" where oxygen is diffused in from the water and carbon dioxide is diffused out, similar to fishes breathing through their gills. The blood vessels in their cloaca (or butts) allow turtles to take up oxygen through the water through diffusion.
Further Reading
Facts on the Red-eared slider:
Red-eared slider (Wikipedia)
Red Eared Slider (Wildlife Facts)
Fact sheet on the RES specific to its distribution in the US:
Red-eared Slider (Trachemys scripta elegans) – Species Profile
Care guides:
Natural Habitat Housing Temperature
Red-Eared Slider Care: Diet, Habitat, & Characteristics
Detailed article on tubs vs aquariums:
Article: RubberMaid Tub vs Aquariums
Informative sub-reddit for owners and enthusiasts: