Choosing the filter for your red-eared sliders is one of the most important decisions when creating a healthy habitat.
In this guide, you'll learn:
Why do I need a turtle tank filter?
Which type of filter do I need?
What are the best turtle filters available?
How do I set up my new filter?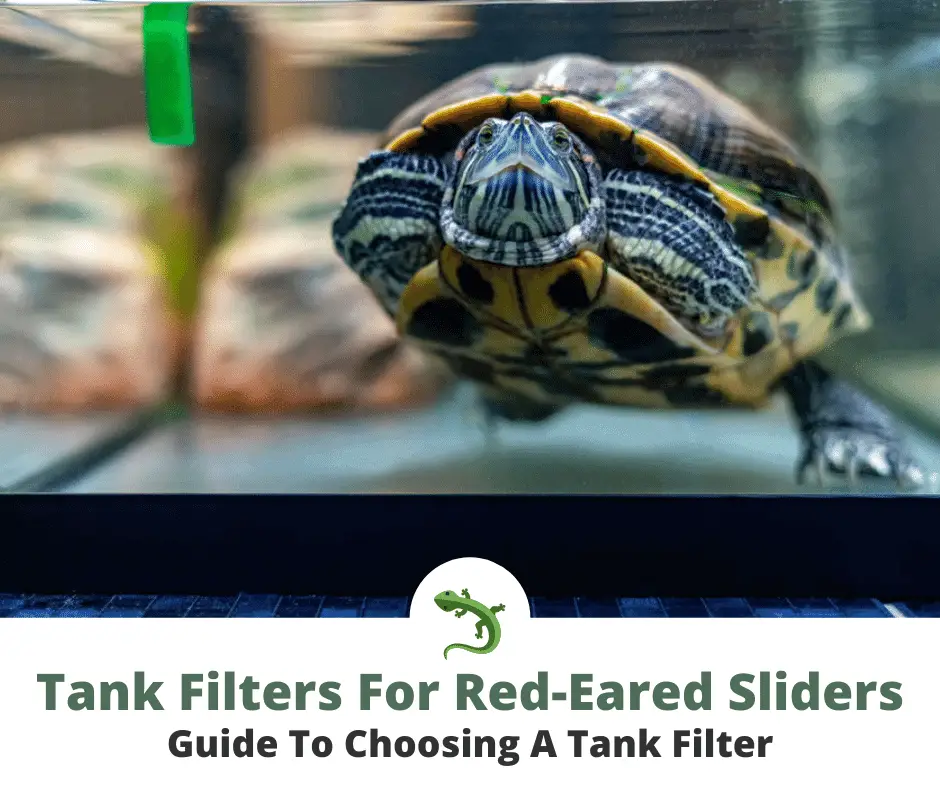 Do Red-Eared Sliders Need A Tank Filter?
Yes, red-eared sliders need a tank filter. Semi-aquatic turtles like RES tend to be quite messy so a good filter will definitely help you keep their tanks clean. A clean tank is synonymous to a happy and healthy red eared slider. An effective tank filter will also help lessen the frequency that you have to clean and replace your turtle tank's water.
Why Are They Important?
Filters are important because they help keep your turtle's tank's water clean. Red eared sliders spend a lot of time in the water so this has a direct effect on their health. Filters take out all the gunk out of the water and recycle clean water back into the tank so you won't have to keep replacing the water too often. It's important to get a filter to help you keep your turtle's tank clean.
Image
Product

Fluval FX4 High Performance Aquarium Filter

Filter Included

Pumps 700 Gallons Per Hour

For 250 Gallon Tanks

Filter Included

Pumps 700 Gallons Per Hour

For 250 Gallon Tanks

Check Price

Penn-Plax Aquarium Canister Filter

Filter Included

Pumps 315 Gallons Per Hour

For 150 Gallon Tanks

Filter Included

Pumps 315 Gallons Per Hour

For 150 Gallon Tanks

Check Price

EHEIM Classic External Canister Filter

Filter Included

Pumps 164 Gallons Per Hour

For 95 Gallon Tanks

Filter Included

Pumps 164 Gallons Per Hour

For 95 Gallon Tanks

Check Price

SunSun HW-3000 UV 9W 5-Stage External Canister Filter

Filter Included

Pumps 793 Gallons Per Hour

For 100 Gallon Tanks

Filter Included

Pumps 793 Gallons Per Hour

For 100 Gallon Tanks

Check Price

Tetra Decorative ReptoFilter

Filter Included

Pumps 9 Gallons Per Hour

Up To 50 Gallon Tanks

Filter Included

Pumps 9 Gallons Per Hour

Up To 50 Gallon Tanks

Check Price

Tetra Whisper EX Silent Multi-Stage Power Filter

Filter Included

Up To 60 Gallon Tanks

Filter Included

Up To 60 Gallon Tanks

Check Price

Aqueon Quietflow Internal Power Filter

Filter Included

Pumps 155 Gallons Per Hour

Up To 40 Gallon Tanks

Filter Included

Pumps 155 Gallons Per Hour

Up To 40 Gallon Tanks

Check Price
---
🏆 Our Overall #1 Top Pick
We consider Fluval's FX4 High Performance Aquarium Filter to be the "Cadillac of Aquarium Filters". This filter is a serious workhorse that will provide years of reliable service. It's best for aquariums up to 250 gallons, so it can handle every life stage of your turtle. For tanks larger than 250 gallons you're gonna want to go with the Fluval FX6.
This filter definitely comes with sticker shock but will pay its self back in years of reliable, efficient (and quiet!) service.
---
How To Choose The Right Filter
Filter Types
There are many types of filters in the market but the three most common ones you might see in a pet store are:
Canister Filters 
Power Filters
Undergravel Filters
Since turtles are quite messy, canister filters come highly recommended for their great filtering capacity and durability. It's also become a turtle specific kind of filter since turtles often need big aquariums to accommodate their growth to a large size and canister filters are usually the kind that is rated for large aquariums.
Most will also have chemical filtration, mechanical filtration, and biological filtration cartridges in place but it's best to check the product description. Having all three is the best way to maintain the cleanliness of your tank.
Tank Size & Flow Rate
Your tank size or the effective volume of water in your tank will definitely be a major factor in choosing the right filter. You want to choose a filter that is rated to work with the amount of water in your tank without breaking a sweat. This information is usually stated in the product description.
📚 Read More >> Best Tanks For Red-Eared Sliders
In fact, most turtle owners recommend choosing filters that are rated to work with twice the volume of water in your tank since turtles can really get quite messy. 
You should also take note of the flow rate of the filter. The higher the flow rate, the better. A high flow rate means more water can be filtered at a time allowing it to clean your tank faster and more effectively keep it cleaner longer.
Maintenance Requirements & Durability
Filters are meant to keep your tank clean so they will definitely experience some wear and tear and will need to be cleaned themselves. Choose a filter that will be easy to take a part, clean, and maintain. You can check with the product description or the manufacturer if this is possible. An alternative is to research service centers for the brand of your filter so you know where you can bring your filter for maintenance.
Check the product and service warranty for the filter you choose. Make sure the manufacturer has a good service warranty in place for their filters.
Turtle tank filters should be especially durable since turtle tanks can get messy and turtles have the tendency to dig and knock stuff in their tank around. Most filters will be constructed out of plastic so watch out for those that are made of harder plastics.
Which Filters Should You Avoid?
For red-eared sliders and other turtles, undergravel or gravel filters are generally best avoided since turtles are big diggers. They can dislodge the substrate and eventually reach the filter underneath the gravel and damage it. Digging may cause some debris to get stuck into the filter and clog it. These are also typically low power filters that may not have the capacity to effectively clean a turtle tank.
Small filters meant for fish tanks should also be avoided since these will not do the job in cleaning your turtle tank. These are often the cheap ones some aquarium kits may come with but be wary of purchasing these since they are next to useless for big turtle tanks.
Top 7 Best Tank Filters For Red-Eared Sliders
Described as a "beast" by a lot of turtle owners, this Fluval Canister Filter is a top-performing, premium canister filter.
Though it is a bit on the expensive side, you get a lot back in terms of power, durability, and features. It's compact and quiet for its capacity making it a recommended choice even for its price. It is a complete filter package for your turtle tank with mechanical, chemical, and biological filter media included.
The high pump capacity is perfect for messy red eared sliders. If you can afford it, the Fluval FX4 or FX6 filter is definitely worth investing in. It will serve you for years to come!
Features
Powerful canister multi-stage filter rated to work with 700 gallons per hour
Has a Smart Pump microchip technology to optimize pump performance
Smart Pump feature can be hooked to help you change the water in the tank
Mechanical, chemical, and biological filter media are included 
Media baskets can hold up to 1 gallon of water eliminating the need for a water bypass
Includes rubberized feet for quiet operation
FX4 model is best for 250-gallon tanks while the FX6 model is rated to work with up to 925 gallons per hour and is best for 400-gallon tanks
👍 Very powerful, durable, and reliable canister filter that performs quietly
👍 Compact size perfect for all aquarium setups
👍 Easy plug and play installation with Smart Pump self-priming feature that eliminates air in the system
👍 Comes with a high capacity media basket with all the filter media included
👍 Includes a 3-year warranty
The Penn Plax Cascade Canister filter is a favorite among red-eared slider enthusiasts for its powerful filtering capacity at a reasonable price. This is a great, durable, easy to install filter that is feature-rich but won't break the bank. An excellent value for the money.
It offers great flexibility and versatility in installation with its 360-degree rotating flow valves and directional tubings included to ensure it fits with any setup.
The high flow rate is also good for aerating the water in your tank. From a pricepoint, this is a good mid-range choice perfect even for the messiest turtles.
Features
Multi-stage canister filter rated to work at 315 gallons per hour
Includes large capacity media baskets for full customization
Includes filter medium, tubing, and a directional spout for versatile set ups
360 degree rotating flow valves for easy maneuvering for fitting in aquarium cabinets
Floss pad for removing particulate matter and a coarse sponge to promote bacterial growth for removing ammonia and nitrites are included 
Easy lift clamps to release suction with a sturdy tip-proof base
Cascade 1200 (20.5) inch version is rated for aquariums up to 150 gallons
👍 Stackable media containers with lift-up handles
👍 Quick, easy set up with a one-push button to prime your filter and get it started
👍 Sturdy and durable build
👍 Includes a 3-year warranty
👍 Comes in a variety of other power and pump ratings to fit your tank size
👎 Additional filter media are sold separately
👎 Higher power consumption and is a bit noisy
Eheim is another crowd favorite for great aquarium equipment. Their classic external canister filter is no different. It is a simple, easy to install, filter with no frills or other embellishments. With built-in sponges and loose filter media, you have everything you need out of the box.
This filter is also quite powerful and works well with a variety of tank sizes. It has a strong and durable build with a simple canister filter media holder design that is easily customizable.
Features
Comes with filter sponges and loose filter media
Comes with all the accessories needed: spray bar, inlet pipe, hose, and other installation parts
With a permo-elastic silicone sealing ring on the pump head for easy and safe closing after cleaning
Rated for 95 gallon tanks with a 164 gallon per hour flow rate
Chamber canister design provides easy and full customization for different kinds of filtration media
👍 Great build quality
👍 Includes everything you need out of the box
👍 Quick and easy installation
👎 Filter cleaning can be tedious
These SunSun filters are an affordable alternative to the other premium canister filter brands with many similar features. It's also an up-and-coming brand choice for a growing number of turtle enthusiasts.
It has a nice LCD display you can use to adjust the flow rate and the UV light timer. The 9W UV sterilizer is a nice extra layer to help maintain the cleanliness of your aquarium.
Though the filter media is sold separately, they have a wide variety to choose from including turtle tank specific ones. All in all a very practical choice for a powerful canister filter.
Features
Adjustable flow rate from 396-793 gallons per hour
Comes with a 9W UV sterilizer for better aquarium maintenance
Built-in LCD display to allow for flow rate and UV light adjustment
White filter pads are included
Unit has 4 customizable filter media baskets
Newly designed 30W motor which is more reliable and powerful
Suitable for 75-100 gallon turtle tanks
👍 Has a 9W UV sterilizer to give your aquarium an extra layer of cleaning
👍 Has an LCD display for easy flow rate and UV light adjustment
👍 No priming required to start using
👎 Filter media sold separately
👎 Customer support can be frustrating as this is a Chinese-made brand
This Tetra Decorative Reptofilter is specifically made for a turtle tank and is built to look like a rock with a waterfall. It is perfect for turtle owners that are finicky about how their aquarium looks, but don't want to sacrifice functionality.
It works well like most filters and employs a three-stage filtration process. The whole waterfall effect even adds a great, enriching environment for your turtle to explore and have fun in. This is rated for up to 55-gallon tanks.
Features
Realistic rock with waterfall construction with a top that doubles as a basking platform
Uses 3-stage Tetra filtration technology to keep the water clean and odor free
Convenient to set up and clean
Large intake holes to reduce clogging
Includes a 2-year limited warranty
👍 Three-stage filtration (mechanical, biological, chemical) that also eliminates odors
👍 The rock looks realistic
👍 Visually pleasing and functional
👍 Doubles as a basking platform
👎 Moving parts may require more maintenance
👎 Can clog up quickly
The Tetra Whisper stays true to its name as it is one of the quietest yet still powerful filters on the market.
Its lower capacity filter is best for smaller aquariums up to 70 gallons and is great for beginners with its fast and easy setup. It comes with carbon filters and a bacterial growth plate to allow you to monitor the water quality of your tank.
This is a great, low-budget option for those at the beginning of their turtle keeping journey.
Keep your water levels high enough to reduce the noise produced by these filters.
Features
A power filter that provides silent multi-stage filtration
Fast and easy set up with no priming required
Continuous water flow function to prevent debris build up
No mess filter cartridge replacement making cartridge change easy
Comes with carbon filters and a bacterial growth plate for checking water quality
EX70 model fits 45-70 gallon aquarium
👍 Impressively quiet even with the high flow rate
👍 Easy to set up, perfect for beginners with smaller tanks
👍 Has a timer strip to let you know when to change your carbon filters
👍 Small and compact build will allow it to fit with any tank set up
👎 Struggles to work with the upper limits of the recommended tank size
An underrated filter that is budget-friendly yet effective. Aqueon is a trusted brand for aquarium products and they are known for their nice and sleek designs that camouflage and fit well in aquariums. This one is best for small tanks with baby turtles (40 gallons).
This filter is designed for smaller aquariums while keeping baby turtles. Once your turtle reaches juvenile sizes, you'll need a larger tank and a higher capacity filter.
It's small and quiet but does a great job of cleaning the water with its 3-stage filtering process. This Aqueon filter is submersible and versatile with its directional water return. It also does the job of cleaning your tank quietly.
Features
Fully submersible and can be positioned vertically or horizontally
Adjustable return flow rate, direction, and height
Three stage filtration: dense foam for particles and debris, activated carbon for toxins, odors and discoloration and patented BioGrid for ammonia and nitrates
Rated for 40 gallon tanks with a flow rate of 155 gallons per hour
Uses to large internal filter cartridges 
Has a limited lifetime warranty
👍 Sleek, compact design with versatile placement options
👍 Limited lifetime warranty
👍 Adjustable directional water return
👎 Meant for smaller tanks
👎 Flow rate is weaker than advertised
How To Set Up A Tank For Your Red-Eared Slider Turtle
Choosing The Correct Tank Size
You should definitely opt for a big tank for your red-eared slider as turtles outgrow their tanks quite quickly. A good rule of thumb for turtles is to allot 10 gallons of space per inch of shell length. Hatchlings can live in a 20-gallon tank for a year so it's best to get a 55-gallon tank and above to prepare for the growth of your RES. Big tanks are also easier to clean.
Adding Water & Maintaining Water Quality
You should add enough water in your turtle's tank for ample swimming space. Usually the water should be twice as deep as your turtle is long. Before you add water into the tank, make sure that it is chlorine and chloramine free by adding a water conditioner or a dechlorinator and letting the water sit for a day before putting your turtle in.
Invest in an aquarium tester kit that will allow you to monitor the water quality of your water by checking the levels of certain harmful chemicals such as ammonia and nitrites. These build up in the water as organic matter (leftover food and turtle waste) decomposes. For turtles, these levels measured in parts per million (ppm) for the following water quality parameters should be maintained:
Chlorine and chloramine: 0 ppm 
Ammonia: 0 ppm
Nitrite: 0.5 ppm or less
Nitrate: 40 ppm or less
Managing Filtration
A good filtration setup for your turtle tank will allow you to maintain the cleanliness of your tank. With a strong power or canister filter, you won't need to clean the tank manually as often. Invest in a heavy duty filter rated to work with twice the volume of water in your tank. However, make sure that you still stick to a good water replacement schedule even with a good filter. Change at least 25% of the water in your tank to help maintain cleanliness.
Getting The Correct Temperature & Lighting
Since red eared sliders are ectotherms (cold-blooded), the proper temperature in their tanks should be maintained. The water temperature should be 75-85°F with a basking area at 85-95°F (around 60-65°F at night with the lamp off). You will need a heater to maintain the temperature of your tank's water.
Your RES will also need a UVA/UVB light source to make sure that it synthesizes enough vitamin D3 to aid in calcium absorption and ensure good bone and shell development. Invest in a good UVA/UVB bulb and place it near the basking area so your turtles can get enough UV light. You may also want to let your turtle out occasionally to get some natural sunlight. Just make sure they won't crawl off and get lost or become too overheated.
Replace bulbs every 6 to 12 months as UVB radiation output will lessen over time. Even if your bulbs don't seem dim their UVB radiation output still goes down over time.
Creating A Basking Area
Your turtle's tank should have a basking area that will remain completely dry for your turtle to hang out in and keep warm. You can stack rocks in your tank or buy weighted plastic basking platforms. Floating turtle docks are also a good option but make sure that your turtle can easily hop onto these. 
Basking areas are great for monitoring if your turtle is comfortable in its tank. If it spends too much time basking, then the water in your tank may be too cold.
Other Decorations & Tank Furniture
You may want to add a few plants as decoration for your tank. You can choose live or plastic ones. Bear in mind that turtles eat plants so get one that is non-toxic to turtles or durable plastic ones that won't break off and accidentally get ingested. Plants are also great hiding and playing places for red eared sliders.
📚 Read More >> Best Plants For Turtles
You may want to keep the tank furniture to a minimum to maximize your turtles swimming area. If you get some tank furniture, make sure these won't be easily dislodged by your turtle since they love to dig up stuff.
Cleaning Your Turtle Tank
Stick to a good cleaning schedule to keep your tank in great shape. Replace the water regularly (at least 25% weekly) and clear out any uneaten food and debris from the tank immediately. You should also perform a thorough deep cleaning of the tank at least once a month. Investing in a good filtration system will help you maintain a good, clean, tank. 
Pro tip: Feed your red eared slider in a separate bin with a bit of water so you avoid leaving uneaten food in your tank.
FAQs
Do red eared sliders need a filter?
Yes, turtles like red-eared sliders are particularly messy (but charming) animals so their tanks need a filter to help with cleaning. They poop quite a bit and have a tendency to dig so their tanks can get quite dirty. A heavy duty filter is recommended that is rated for at least twice the volume of water in your tank for maximum effectiveness.
What kind of filter should I use for my turtle tank?
The best kind of filter for your turtle tank will depend on your tank's size and how much water you have in it. The filter's brand, durability, flow rate, and power rating should also be taken into consideration. You also have to consider the space you have inside and outside of the tank to check if an internal or external filter is best for you.
Canister filters are often recommended because of their good filtering capacity and durability which is perfect for cleaning turtle tanks.
Can fish filter be used in a turtle tank?
Yes, definitely. Most filters available at the market today have versatile uses and are rated for most aquarium set ups. Just make sure to read the product instructions and specifications carefully so you have an idea if the filter is the best choice for your turtle tank. 
How often should I clean my turtle tank filter?
Different types of filters require different frequencies of cleaning. However, make sure you stick to the recommended frequency of changing or cleaning out your tank filter based in the manufacturer's instructions. This will help keep your tank's filter in good shape and keep it working properly for a long time. If you notice that your tank's water gets dirtier in a shorter amount of time then you may need to check your filter and clean it.
Conclusion
Filters will definitely be your best friend in maintaining the cleanliness of your red-eared slider's tank. As turtles can be quite messy, you should make the best choice in purchasing a filter that's fit for your tank size and set up, water volume, and budget. A powerful and efficient filter will lessen the frequency that you need to make water changes in your turtle tank and help make deep cleaning easier. Not to mention, a good filter is an investment that will aid in keeping your turtle happy and healthy. 
Further Reading
Care guides:
Natural Habitat Housing Temperature
Red-Eared Slider Care: Diet, Habitat, & Characteristics
Forum on filter recommendations from different owners
What kind of filter do you have? (Share and share alike!) : Redearedsliders
RES sub-reddit for owners and enthusiasts:
Red Eared Sliders – Owners and enthusiasts!
Facts on the Red-eared slider:
Red Eared Slider (Wildlife Facts)
Red-eared Slider (Trachemys scripta elegans) – Species Profile