Your bearded dragon's habitat, aside from being their home for 10-15 years, is something that will also affect their health and quality of life. In this guide, we'll help you find the best enclosure for your beardie no matter what stage of life they're at.
In this guide, you'll learn:
What size enclosure do I need?
Which ones are the best?
What types are available?
Enclosure setup basics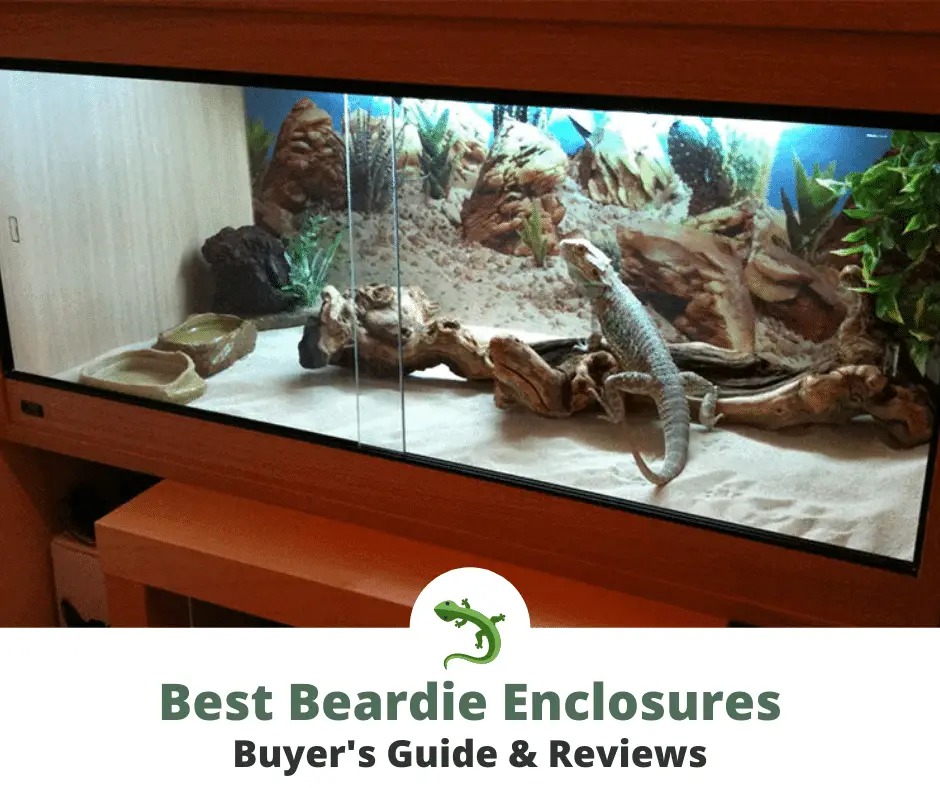 Best Bearded Dragon Enclosures
Enclosures are also one of the biggest upfront investments you'll make when you first get your beardie so it's wise to get the best one or at least be aware of your options so you can make an informed decision. 
The first thing you'll probably have to consider is the size and material of your enclosure; there's a quick guide below for that. Next is how you will need to consider all of the required accessories like lights, lamps, screen tops, and furniture needed for your bearded dragon tank setup.
Image
Product

Carolina Custom Cages Terrarium, Tall Large

36"L x 18"D x 24"H

Top vented

Front double hinge door

36"L x 18"D x 24"H

Top vented

Front double hinge door

View on Amazon

Carolina Custom Cages Terrarium, Extra-Long

48" L x 18"D x 18"H

Top vented

Front sliding door

48" L x 18"D x 18"H

Top vented

Front sliding door

View on Amazon

REPTI ZOO 67Gallon Upgraded Glass Reptile Large Terrarium

48"L x 18"D x 18"H

Top & side vents

Front sliding door

48"L x 18"D x 18"H

Top & side vents

Front sliding door

View on Amazon

REPTI ZOO Reptile Glass Terrarium

36"L x 18"D x 24"H

Top & side vents

Front double hinge door

36"L x 18"D x 24"H

Top & side vents

Front double hinge door

View on Amazon

Exo Terra Outback Terrarium

24"L x 18"D x 12"H

Top & front vents

Front double hinge door

24"L x 18"D x 12"H

Top & front vents

Front double hinge door

View on Amazon
🏆 Our Overall #1 Top Pick
Our favorite is the Carolina Custom Cages Terrarium in their "Tall Large" style. This terrarium is fantastic! Our favorite part is that it is taller than most bearded dragon enclosures, allowing your beardie more room for climbing. The only thing we don't like is the lack of true door handles. They provide suction cups to be used as handles.
Carolina Custom Cages also has the best customer support. They even respond on weekends! Hard to find that any more. You can't go wrong with this enclosure for your beardie.
What Size Bearded Dragon Enclosure Do You Need?
The minimum enclosure size needed is 55 gallons and up which should serve you from when your bearded dragon is a baby up until it matures into a full-grown adult. However, most beardies will do best with a tank that is 75 gallons and up for more room to roam and exercise. Your beardie will benefit health-wise from the bigger tank as well. 
Bearded dragons can grow up to 24 inches from nose to tip of the tail so should factor in their full grown size if you are deciding to buy an enclosure for keeps. You have the option to get a smaller enclosure for a younger bearded dragon if you are under a budget and/or are planning to upgrade later on. Do consider that bearded dragons can grow quite fast, so factor that in your plans as well. 
Baby Bearded Dragon Cage Size 
For baby bearded dragons that are under 10 inches in size, a 20 gallon tank is recommended with the ideal size being 40 gallons (36 x 18 x 18 inches). Reptile owners will usually consider if the investment on a smaller tank is worth making since the bearded dragon will outgrow them quite fast. In about 2 years time, they will be fully mature in size. 
However, if you decide to get a bigger tank at the beginning, also consider that bigger tanks may make it harder for baby bearded dragons to catch their live prey. This situation could stress them out and make them prone to illnesses. If you house a small, baby bearded dragon in a tank for a full sized adult, consider placing a divider in the tank until it is able to catch its prey effectively.
Juvenile Bearded Dragon Cage Size 
Bearded dragons are considered juveniles at about 2-7 months and can grow up to 18 inches (full size for some beardies!). Again, a big tank size is required for these growing dragons with a minimum of 55 gallons and an ideal size of 75 gallons.
Full Grown Bearded Dragon Cage Size
The tank size recommended for a full grown bearded dragon is the same for juveniles (55 gallons and up). They reach full grown size at about 18 months. Remember that bearded dragons do best with room to move around and explore in their tanks. Larger dragons over 20 inches will need tanks that are at least 75 gallons but should be in about 120 gallon tanks to give them ample space. If you have an even larger beardie, then anything smaller than 120 gallons won't be good for them unless you can really give your dragon time to roam outside their tank every day.
A well-built 75-gallon enclosure, this "Tall Large" Carolina Custom Cages is made by the same people behind Carolina Custom Dragons, Inc. who are known for breeding healthy bearded dragons so they really know their beardies. They produced this particular enclosure with a climber and roamer in mind, with its tall dimensions that's perfect for adult bearded dragons and a nice basking spot with different levels for a better temp gradient.
It has a sturdy metal mesh top grate (other tanks tend to have lower-quality metal mesh) on top that allows for good ventilation and will hold well against your light fixtures. The lock is also a nice addition to keep your dragon safe from accidental escapes.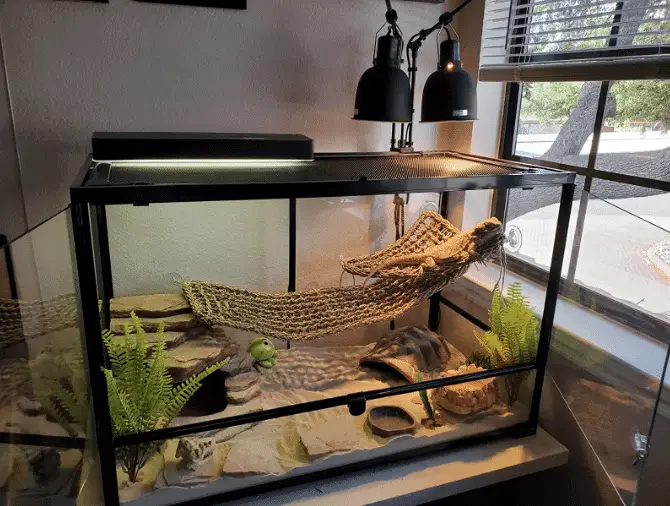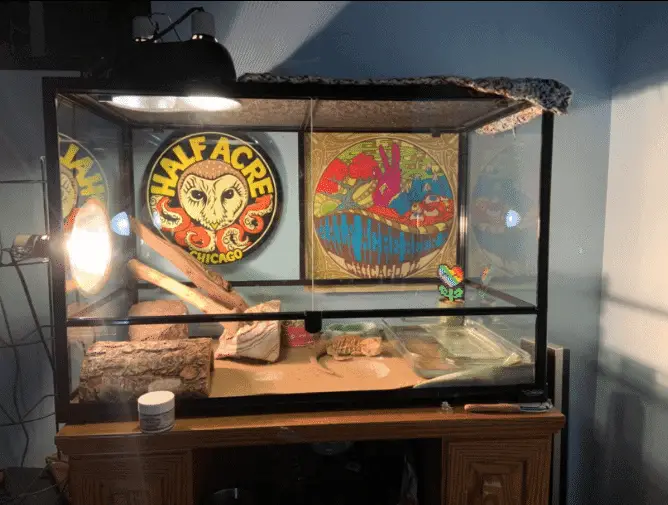 Carolina Custom Cages stack the glass in their terrarium delivery packaging in the order that it needs to be put together. When it arrives carefully unpack it and follow the instructions.
Be careful with this enclosure's hinged doors. Enclosures with hinged doors are more prone to accidental breakage, so take extra care when opening and cleaning.
Specifications
| | |
| --- | --- |
| Type | Tall, Large |
| Dimensions | 36″L x 18″W x 24″H |
| Volume | 75 Gallons |
| Weight | 57.5 lbs |
👍 Very spacious and extra room for climbing
👍 Reinforced packaging to keep it safe during shipping
👍 12″ Waterproof base 
👍 Comes with slots for electrical wiring
👍 Top-notch customer service
👎 Stand not included
👎 May need a higher wattage heat lamp or two lamps to heat the entire cage
Overview:   
Basically, this is a shorter version of the Carolina Custom Cages Terrarium, Tall Large Tank It's the same well-built glass tank with a metal mesh top and a waterproof base that's already a great sized tank for older juvenile and adult beardies. It's about 65 gallons so that's already more than the recommended minimum of 55 gallons for bearded dragons. 
Its extra-long feature allows for more roaming space for your dragon but it'll be secure with its locking doors to prevent escapes. The only thing we don't like is that it's shorter design puts a little bit of a limit on building climbing platforms and branches for your beardie. Not a deal-breaker though.
Carolina Custom Cages stack the glass in their terrarium delivery packaging in the order that it needs to be put together. When it arrives carefully unpack it and follow the instructions.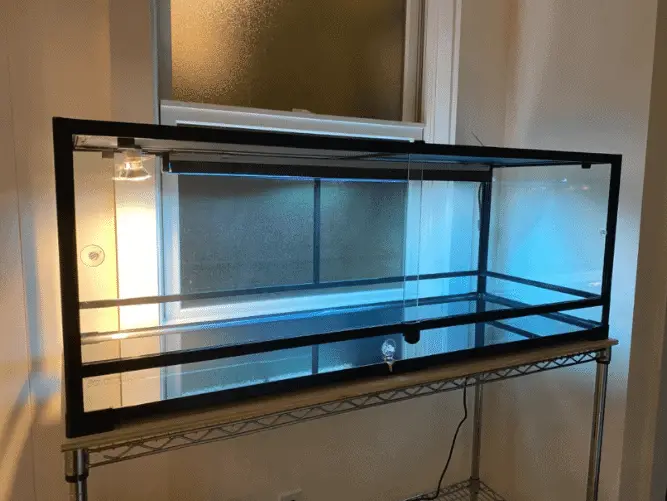 Specifications
| | |
| --- | --- |
| Type | Extra-Long |
| Dimensions | 47.2″L x 17.8″W x 17.8″H |
| Volume | 65 Gallons |
| Weight | 65 lbs |
👍 Reinforced packaging to keep it safe during shipping
👍 Front-facing sliding doors allow for maximum interaction with your bearded dragon and easier feeding
👍 Easy to clean glass; sliding doors are also detachable
👍 Shorter, space-saving design makes it easier to fit into tight spaces
👎 Though the package says "easy assembly" pay closer attention since it can seem confusing at first
👎 Not great for allowing beardies to climb
REPTI ZOO is a well known manufacturer of reptile tanks and they produce great looking quality tanks. This 67-gallon upgrade is made even sturdier with a thicker tempered glass upgrade. The size is above minimum required for a beardie with a lot of features to allow you to set up your habitat with flexibility. The wires can be neatly looped through the side or top and the side mesh and glass window can be interchangeable for great versatility. 
There's enough space in this tank for a bearded dragon of average size but it will run small for exceptionally large dragons. The double doors are a great convenience for feeding and handling time and will also allow you to clean the enclosure easily. You'll also be able to clean this tank more thoroughly as the glass is tougher.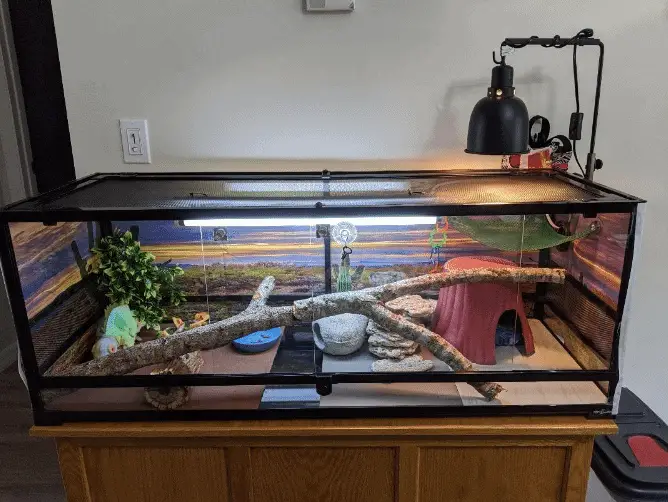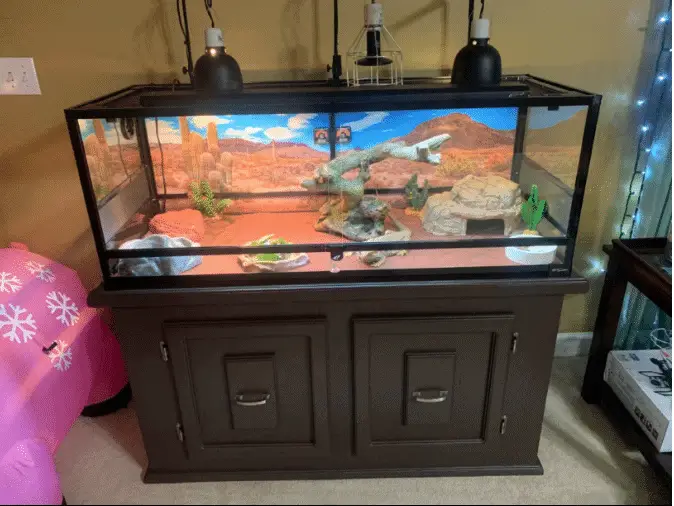 Specifications
| | |
| --- | --- |
| Type | Large |
| Dimensions | 48″L x 18″W x 18″H |
| Volume | 67 Gallons |
| Weight | 70 lbs |
👍 Comes with an instructional video
👍 Screen top has good UV penetration
👍 Wire outlets on the side and on top allow for a neat habitat setup 
👍 Double doors open for convenient feeding and access but they also lock to prevent escape
👍 Glass doors include a suction cup for easier opening
👍 You can interchange the side mesh and windows to fit your setup at home
👎 A bit heavier than most tanks of the same size
👎 You need to pay attention to the glass panes during setup since you can switch the front and back out and they aren't labeled (frame won't have a good fit if this is the case)

This tried and trusted 67-gallon glass tank from REPTI ZOO is an adequately sized enclosure for bearded dragons with great features such as a front door for convenience during feeding time and wire outlets for a neater setup. The screen top and side windows allow good ventilation and the raised bottom frame is perfect for a substrate heater should you need one. 
There's enough room for your essential tank furniture with this tank but don't go overboard to avoid crowding. It's also easy to set up and the black finish looks great.
Specifications
| | |
| --- | --- |
| Type | Large |
| Dimensions | 36″L x 18″W x 24″H |
| Volume | 67.3 Gallons |
| Weight | 65 lbs |
👍 Great for areas that have cold winters because you can easily install a substrate heater
👍 Good quality build that's both durable, aesthetic, and functional
👍 Adequate ventilation
👍 Front doors open to make feeding time convenient
👍 Compatible with all kinds of tank accessories from REPTI ZOO
👍 Free replacement service for damaged parts from the manufacturer
👎 Front glass doors can be hard to open (pro-tip: buy suction cups from your hardware store and stick them for instant handles)
Overview:
The Exo Terra Glass Natural Terrarium is a great starter enclosure for your young bearded dragon if you know you'll be upgrading a larger one down the road. It has all the best features of the enclosures featured above in a smaller package. 
The space at the bottom is perfect for an extra heater especially for baby dragons that need a bit more heat. The small size will also allow you to install lights closer. Multiple wire and tubing outlets will help keep your setup neat and they have covers for when you don't need them. The front doors allow for good accessibility combined with the removable screen top. The same screen top has a durable build with good ventilation and UV penetration. 
This feature-rich Exo Terra 22-gallon tank is a great, affordable choice for your baby dragons or hatchling.
Specifications
| | |
| --- | --- |
| Type | Small |
| Dimensions | 24″L x 18″W x 12″H |
| Volume | 22 Gallons |
| Weight | 35 lbs |
👍 Option to add a substrate heater is perfect for baby bearded dragons who often need additional heat 
👍 Closable wire outlets 
👍 Full screen top provides added ventilation and good UV penetration
👍 Removable screen allows for easy top access for cleaning
👍 Budget friendly
👎 Not suited for larger juveniles and adults
Which Enclosure Material Is Best?
The best material for an enclosure should consider a balance between these factors: budget, sturdiness, heat retention, and aeration. Each type has its own pros and cons so choosing the best material for your enclosure eventually boils down to your preference and need.
Glass Tanks
Glass thanks are the most common type of enclosure and can be bought in all pet stores. They provide the best aesthetic with an almost 360° view of your beardie. However, you may have to cover one side to avoid a reflection in the glass that may seem like there's another dragon in the tank. This causes your beardie to become territorial and eventually, stressed out. Glass tanks are also quite affordable and the screen lid will give good aeration and make it easier to keep the humidity at the optimum levels (20-40%). 
However, heat retention is not too good for glass tanks as it doesn't provide the best insulation which may cause duller coloration in bearded dragons, according to many owners. Glass tanks also tend to be heavy and are not as sturdy. You will have to take extra precautions when giving it a thorough cleaning so that it does not break. 
Melamine Enclosures
Melamine enclosures are made of sturdy wood boards that can be purchased at your local hardware store. They can be bought ready made in some online stores or you can build one yourself. The material is a good insulator so it will keep your bearded dragon nice and warm as well as help keep its coloration bright. However, these enclosures are really heavy and do not do too well with moisture. The wood can get ruined if it gets wet.
Plywood is another alternative enclosure material similarly made of wood as well. Plywood is cheaper, lightweight, and easy to find. However, you will need to apply a non-toxic sealant to all the edges so that the heat retention in your enclosure improves.
PVC or ABS
PVC (polyvinyl chloride) is a plastic used in a lot of domestic and industrial materials like pipes. PVC enclosures are lightweight making it easier to move around and clean, come in different colors, and have a smooth finish. They are usually made to be stackable and can come with the lights and fixtures pre-installed. They are more or less similar to melamine enclosures save for the weight and price – PVC is more expensive (up to hundreds of dollars depending on the size). They also retain heat well but can have poor aeration. Some concerns are raised for this type of enclosure because of the heat lamp which can heat up the PVC material and cause the emission of some toxic fumes from the plastic.
ABS cages are an alternative and do not have the "plastic" odor from PVC. The structure and characteristics of ABS cages are similar to melamine and PVC. ABS stands for Acrylonitrile Butadiene Styrene and is a bit more lightweight compared to PVC. LEGO bricks are made from ABS plastic.
Vision Cage
Vision cages are professionally made cages molded from a single piece of plastic, usually with fixtures for lighting built in. They are lightweight and stackable, making it a good option for those with multiple bearded dragons. These are easy to clean, and are chemical resistant but tend to be quite expensive as well.
Quick Enclosure Basics
What Is The Best Tank Temperature?
Getting the temperature range in your tank correctly is essential for your bearded dragon's health as they are ectotherms (cold blooded) and will need the heat/cold from their environment to thermoregulate. The temperature of the basking spot should be between 100-110 °F for babies and 96-100 °F for juveniles and adults. The cooler part of the tank should be 80-90 °F for babies and 75-80 °F for juveniles and adults. At night, the tank should be 70-75°F. You may have to adjust this a bit for different types and sizes of tanks. For example, glass tends to heat up quicker and bigger tanks will take up more time to heat but provide the best temperature gradient.
What Kind Of Lighting Do You Need?
You will need a full spectrum fluorescent bulb to provide the necessary UVA and UVB light for your beardie that they would normally get from natural sunlight. An incandescent light that can also act as a heat source should also be provided (an alternative would be a heat lamp or a ceramic heating element) and you can also add normal fluorescent lighting for your cage if you wish for extra lighting. These light sources should be on a 12-hr light and dark cycle to match the dragon's natural circadian rhythm.
What Is Substrate? Do I Need It?
Substrate is the material used at the bottom of tank or enclosure setups, kind of like the "flooring" or carpeting of your house. They are either "loose particle" substrates such as pellets, or wood shavings or "non-particle" substrates such as newspaper, reptile carpet, or tiles. 
Substrate serves a couple of purposes for a lizard's enclosure. It serves as a drainage system for excess water/humidity and is a space to burrow for species such as an Ackie Monitor. If you are breeding your lizards, the substrate can be where females can dig and bury their eggs. It also helps recreate the natural habitat of your lizard. 
In general, owners are advised against loose particle substrates since lizards, especially baby bearded dragons, may ingest these and cause digestion problems. 
FAQs
How many bearded dragons can be kept in a single tank?
Ideally, only one bearded dragon can be kept per tank as they are solitary animals that prefer to be alone and can get territorial with another dragon. They are never found in groups in the wild and are territorial in nature. 
However, if you have a male and a female in a tank or multiple females, it could work in some cases provided that your tank is big enough but it is not recommended. Males have to be separated from females when they are in heat as they can get aggressive. Also, a male cannot be housed together with a female until the female is two years old. 
If you really have to house more than one bearded dragon in a tank, make sure you have a very big tank (150 gallons and up), that both beardies are similar sizes to avoid bullying, and that only one is male. 
Why do bearded dragons need large tanks?
Bearded dragons need to be able to turn around in their tanks freely without hitting anything to keep them stress free in their enclosures. They can grow up to 24 inches (head to tail), so tank size should be prepared accordingly. In addition, beardies can actually adapt to their tank size during their growth phase and will effectively "stunt" their growth when housed in smaller tanks as they adjust to their surroundings. Stunted growth may lead to different health complications such as poor bone development and other joint injuries. In their natural habitat in the deserts of Australia, beardies are able to move around freely so this somewhat affects their well being in captivity as well hence the need for large tanks.
What else do I need besides an enclosure?
Aside from the enclosure, you will need to get proper lighting (full spectrum UVA/UVB lighting), a heat lamp or a ceramic heating element, and clamps or fixtures for these lamps. A basking spot such as a branch and somewhere to hide in (e.g. faux caves) should be part of your enclosure as well, and you may also opt to add some non-toxic plants. You should also invest in a good thermometer and hygrometer to check the enclosure's temperature and humidity accurately. After that, provisions for food and a shallow water dish with clean water will make your enclosure ready for your bearded dragon. 
Conclusion
Getting your bearded dragon's enclosure seems like a daunting investment but it's a worthy one to make. The best enclosure that meets your beardie's needs will ensure a good life for your pet. It will also benefit you as you create a good relationship with your dragon and keep any health complications at bay.
Further Reading
Overview on Bearded Dragons:
Bearded dragons: facts and photos
Great, informative article that explains bearded dragon care
Husbandry and veterinary aspects of the bearded dragon (pogona spp.) in Australia
Myths and facts about bearded dragon care:
Myths and Facts about Bearded Dragon Care
Threads on enclosure setups:
Show off your Bearded Dragon setups! (aka how should I set up mine) : reptiles