Turtle water heaters come in many different varieties. From glass to titanium, submersible to external, we cover all types below.
In this guide, you'll learn:
Do turtles need a water heater?
What is the best one for your turtle?
How to set up your heater properly.
Tank heater safety precautions.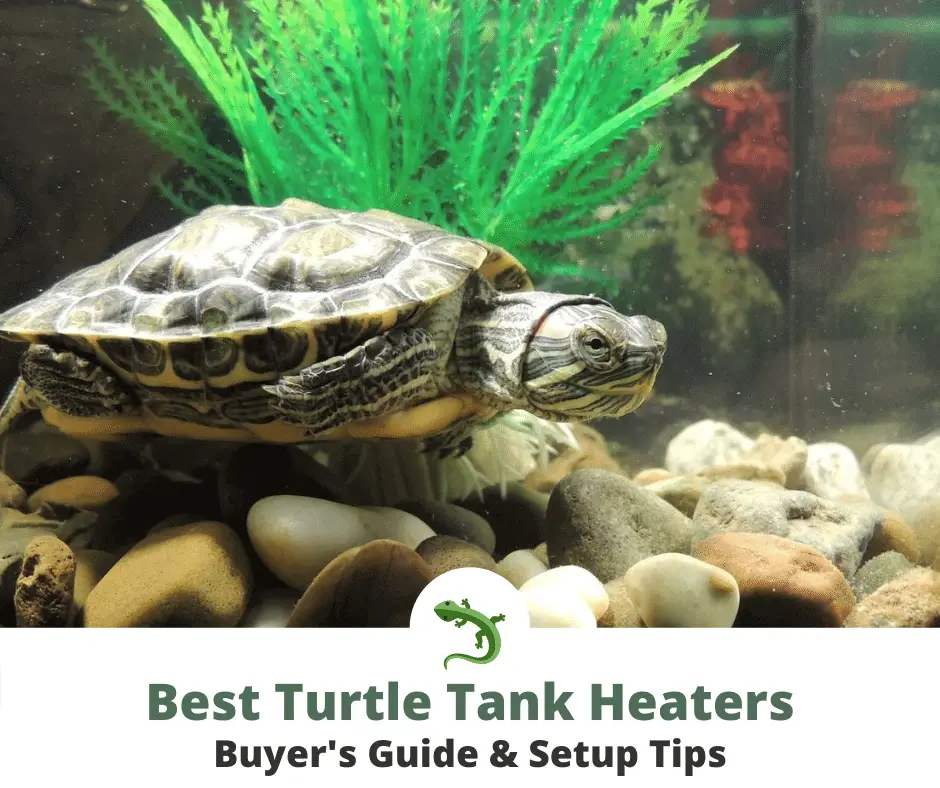 Choosing the best water heater for your pet turtle will depend on the size and type of tank you own. It's important that you also purchase the correct wattage according to your tank size. Check out our tank & wattage chart to help you pick the right one.
Image
Product

Eheim Jager Aquarium Thermostat Heater

Submersible heater

25-300 Watts

3-year warranty

Submersible heater

25-300 Watts

3-year warranty

Check Price

Cobalt Aquatics Flat Neo-Therm Heater with Adjustable Thermostat

Submersible heater

25-300 Watts

3-year warranty

Submersible heater

25-300 Watts

3-year warranty

Check Price

Fluval M Submersible Heater

Submersible heater

50-200 Watts

3-year warranty

Submersible heater

50-200 Watts

3-year warranty

Check Price

Finnex Hang-On Electronic Controller Aquarium Heater

Submersible heater

50-200 Watts

No warranty

Submersible heater

50-200 Watts

No warranty

Check Price

Hydor In-Line External Heater

External heater

200-300 Watts

2-year warranty

External heater

200-300 Watts

2-year warranty

Check Price

ViaAqua Quartz Glass Submersible Heater

Submersible heater

300 Watt

1-year warranty

Submersible heater

300 Watt

1-year warranty

Check Price
🏆 Our Overall #1 Top Pick
The Eheim Jager Aquarium Heater is known for its reliability and is our top pick when it comes to turtle heaters. It's durable and made from lab-grade shatterproof glass to protect your turtles from harm. It's great at maintaining temperature and comes at an excellent price point compared to more expensive heaters. That's why it gets our Overall #1 Top Pick!
Top 6 Best Turtle Tank Water Heaters
What Type Of Turtle Water Heater Do You Need?
The right type of heater will depend on how big your tank is, with bigger tanks holding more water and therefore needing more power to heat up. Always go for heavy duty and quality heaters as poorly made ones can overheat, breakdown, and lead to incidents such as electrocution.
Use the chart below to determine the required power your heater needs based on the amount of water in your tank. More water will need more power to heat up.
| | |
| --- | --- |
| 15 gallons | 50 Watts |
| 20 gallons | 75 Watts |
| 30 gallons | 100 Watts |
| 45 gallons | 150 Watts |
| 65 gallons | 200 Watts |
| 75 gallons | 300 Watts |
Use two heaters in a tank so you can have one as a back-up and to keep the temperature more consistent. This also ensures safety since you can use two lower power heaters for large tanks.
Submersible Heaters
Submersible heaters are the most common heaters you will find recommended for use in aquariums. These are safe to use in the water and will usually have quartz glass as its heating element. Look for submersible heaters that have a tough exterior or a protective cage to protect the heating element from exposure.
Always mount submersible heaters near the bottom of the tank or the lowest water level considering possible evaporation to make sure that it is not exposed to air accidentally which can cause it to burn out. You will also have to take extra precaution in making sure the submersible heater is not destroyed or hit accidentally by your turtle. Hiding it behind some foliage or mounting it in an area behind some rocks is a good idea.
External Heater
External heaters usually hook up to canister filters that are set up outside your tank. Alternatively, a water pump can provide water flow through the external heater if you have a different type of filter. Take note that these heaters are not submersible. 
For external heaters, you will need to take note of the proper tubing and fittings in terms of size and flow rate to make sure there are no leaks when you hook up to your canister filter or water pump. Again, make sure that your water is flowing freely through your external heater to prevent burnouts. Pumps and water heaters should never be operated dry. 
The Eheim Jager Aquarium Heater is a durable aquarium heater made of high-quality laboratory-grade shatterproof glass. You won't have to worry about your turtle damaging this heater because of its shock-resistant construction.
It has a very accurate thermostat with an easy dial function to adjust the temperature from 65-93°F. It is fully submersible and comes with suction cups so you can mount it securely on the walls of your aquarium.
It also has run-dry protection so it will shut off automatically if your water level gets too low. It's a great, reliable heater that is highly recommended and popular among turtle owners.
Features: 
Comes in 25-300 Watts
Fully submersible with suction cups and a mounting bracket included
Thermo safety control feature to protects against running dry
Shuts off automatically in low water levels
TruTemp dial recalibration for precise temperature regulation that adjusts from 65° to 93° F; recalibration is simple (+- 2°)
Made of shock-resistant, shatterproof, laboratory-grade glass
For use in fresh or marine water
Has an indicator light (on/off)
Comes with a 5.6-foot cord
👍 Accurate thermostat and reliable heating performance
👍 Available in a wide range of power
👍 Durable and shatterproof construction
👍 Has a run dry and auto shut on/off feature when in and out of the water
👍 Easy to install and recalibrate
👍 Affordable
👎 Needs to be fully submerged to work and mounted horizontally so you may have to adjust the water level in your tank
👎 20″ long and may stick out of some tanks
👎 Can overheat as it ages
This is another well-loved, highly recommended, good quality heater made by Fluval. It's a trusted brand for many aquarium products. Its simple design makes it easy and quick to install.
It has an accurate thermostat which can be set in 0.5° increments which is more precise than most aquarium heaters and comes with an easy to read LCD display. The auto shut-off safety feature and indicator lights if the temperature is too high will ensure that you don't have to worry about anything with this installed.
Features:
Submersible heater with reflective technology that allows it to mirror the surrounding colors in your tank
Computer-calibrated thermostat with an easy-to-adjust temperature dial
High-density ceramic heating element with a shock-resistant borosilicate glass housing
Easy to install, slim profile tube for versatile placement
Suitable for freshwater and saltwater
Four power ratings available: 50, 100, 150, and 200 Watt.
Comes with a 3-year warranty
👍 Comes with a warranty
👍 Easy to read LCD display (both in °C and °F)
👍 Has a protective housing
👍 Has a safety shut off feature to prevent overheating or when the water is too low
👍 Accurate thermostat and adjustable temperature in 0.5° increments
👎 Temperature reading may be inaccurate if water is not flowing directly into the heater
👎 Requires a heater shield case
The Cobalt Aquatics Flat Neotherm submersible heater is a game-changer in terms of design and power output and has quickly become a crowd favorite among turtle owners. It's a small and sleek heater with a black finish that will blend in well in your aquarium. The bracket offers full flexibility in mounting as well.
It has a one-touch temperature setting system with an LED display that maintains the tank temperature accurately and reliably. Dual indicators show when the heater is working or when the temperature is higher than desired. It's a reliable, accurate, well-designed, and safe heater made by a trusted brand. It differs from most heaters with its thermoplastic heating element making it more rugged and durable. It's protected circuitry and shatterproof case rounds out this heater's many safety features.
Though this heater is on the more expensive side, you are paying for great quality and it's definitely a good investment to make for your turtle's tank.
Features:
Sleek, modern, and flat design for discreet placement in your aquarium
Fully submersible
Comes with a reversible bracket that allows the heater to face inward or out
Accurate one-touch system to set the temperature with an LED display adjustable from 66-96 °F
Maintains tank temperature accurately within +- 0.5°F
Integrated thermal protection circuitry to guard from overheating with an auto shut off feature
Heating element is made of a resin/thermoplastic material with a shatterproof outer casing. 
Rated to have enough power to raise the tank temperature up to 11°F above ambient temperatures
Comes with a 3-year warranty
Available in seven power ratings from 25-300 Watts
👍 Super flat, aesthetic design that doesn't take a lot of space in your aquarium
👍 Great power output for a small heater
👍 Accurate and reliable temperature control with LED indicator lights
👍 Has a LED indicator warning if the temperature is beyond the desired setting
👍 The bracket offers good flexibility for placement of the heater in your tank
👍 Great quality, durable, and safe heater
👎 A bit pricey (but it's good value for your money)
👎 Suctions cups can sometimes lose their hold
This Finnex Deluxe Titanium Tube Heater is one of the better titanium heaters in the market known for its durability and high heating capacity. The titanium tubes are corrosion resistant so you won't have to worry about their use in water.
The compact size is perfect for any aquarium setup and its heating capacity suits large tanks pretty well. A good feature of this heater is that its temperature control setting is outside so you don't have to get your hands wet to adjust the temperature setting. You may have to take extra precaution and buy another heater guard since the tube can get pretty hot and an external thermostat is needed to check the water temperature (which is something your tank should already have so it shouldn't be a problem).
All in all, a pretty good option that's durable and good-looking with a fair price point especially if you're looking for something more durable than a standard glass heater.
Buy two low-power heaters to prevent overheating.
Features:
Durable and fast heating titanium tube with a sleek analog controller
Titanium tubes are corrosion-resistant and are good for both freshwater and saltwater use
The heating element is fully protected
Compact size with hang on hook and an LED heating indicator 
With a control that maintains the temperature at +/- 2°F of the value an extra safety feature
Temperature control is outside the tank 
Adjustable from 70-92°F
Comes in 4 power ratings from 50 to 200 Watts
👍 Durable and virtually unbreakable
👍 Titanium tubes are corrosion resistant
👍 The adjustable controller is placed outside the tank 
👍 Compact size allows you to hide it in a corner of your aquarium so your turtle cannot easily get to it
👍 Great for large tanks
👎 Requires an external thermostat
👎 You may have to buy an extra heater guard since the tube gets pretty hot
This Hydor In-Line External Heater is perfect for those who are particular about the aesthetics of their turtle tank since this can be set up outside the tank to eliminate clutter. This gives an unobstructed view of your turtle and its habitat.
The Hydor In-Line External Heater is the first of its kind that uses PTC (Positive Thermal Coefficient) Technology wherein the heating element increases its electrical resistance as more heat is added. The heating element will not overheat or blow up since its material allows it to reduce the electric current flowing through it if the temperature gets too hot.
The Hydor In-Line External Heater is a reliable and efficient heater with top safety features and is considered one of the best external heaters by many turtle owners.
Features:
Easy to use, external heater designed for use on the return lines of canister filters, sump tanks, or water pumps
High precision electronic temperature control
Maximum safety from the external self-limiting PTC (Positive Thermal Coefficient) heating element so there is virtually no risk of overheating
Durable and long-lasting
Comes in 2 power ratings: 200 and 300 Watts with different tubing options
👍 An external heater that allows you to eliminate the clutter in your tank and hide it from view
👍 More compact than most external heaters since it only needs to be connected to the return tube that puts water back into your aquarium
👍 Reliable safety features
👍 Fits all types of canister filters
👎 Set up may seem daunting at first
👎 Housing is not waterproof
👎 Temperature dial can be inaccurate at times and the display is a bit small
The ViaAqua Quartz Glass Submersible Heater is more or less the most affordable heater on the market that won't compromise quality. It has an excellent build quality that a lot of turtle owners vouch for, with a sleek design that rivals most heaters on this list.
It comes with the standard features of all the other heaters and is the perfect choice for those on a budget. The shatterproof high-quality quartz glass ensures the safety of your turtle and it comes with different power ratings to match your tank's needs.
Features:
Fully-submersible heater made with high quality, shatter-resistant, quartz glass
Visible temperature setting with LED indicator
For use in fresh or saltwater aquariums
Waterproof double insulation for safety
Comes in 4 power ratings: 50-300 Watts
Has suction cups for easy set-up
👍 A really good budget heater that will not compromise quality and efficiency
👍 Consistent and quick heating
👍 High-quality quartz glass is very durable and resistant to breakage
👎 Temperature gauge tends to be inaccurate at times. Be sure to monitor it using a separate thermometer.
👎 No auto shut off feature
Do Turtles Need a Water Heater?
Yes, turtles need a water heater especially for areas with ambient/room temperatures that go below 70°F. Since turtles are ectothermic (cold-blooded) animals, they use the temperature of their environment to regulate their own. Hatchlings and juveniles will especially need higher water temperatures since heat helps with their growth and metabolism.
📚 Read More >> Do Turtles Hibernate?
What Is The Proper Temperature For A Turtle Tank?
Water temperature in a turtle tank should be between 75-80°F with 78°F being a good temperature to maintain. Anything too warm will encourage bacterial growth and discourage basking. Too cold and your turtle may lose its appetite. Keeping the water temperature at the correct range will ensure its good health.
For hatchlings and juveniles, keep the water temperature at around 78-80°F for Painted Turtles, Sliders, and Musk Turtles. As they grow to about 1.5 inches in length, the temperature can be reduced down a degree every few weeks until 75-76°F. Adults can live in cooler temperatures at 72-76°F. Usually, sick turtles will need an additional 5° to the average temperature up to about 85°F.
Make sure to test the temperature with an accurate thermometer first before putting in your turtle to make sure that the water is not too hot. 
For the rest of the tank, the air should be about 75°F and the basking spot should be 88-95°F. Some turtles need a more specific temperature range, so make sure to double check your species care sheet but those above are the general temperature ranges.
Why Do Turtles Need A Tank Heater?
As cold-blooded or ectothermic creatures, turtles use the temperature of their environment to regulate their own body temperature. The temperature of their environment controls a lot of their metabolic functions such as eating and digestion. They bask under the heating lamp if they need to warm up or swim around to cool down. 
Turtles also spend a lot of time in the water which is also where they eat so the correct temperature should be maintained at all times.
As your turtle grows into adulthood, you may not need the heater but it's best if you have one especially if the temperature in your area tends to get low. Though they are resilient and will tolerate a wider range of temperatures, adults will do best around the proper temperature ranges. Hatchlings and juveniles need a heater so their metabolisms stay active to promote good digestion and growth.
If your turtle gets sick, you may also need to increase the average temperature in the water to help it fight off disease and illnesses more effectively.
If you are considering a heater that wasn't made specifically for aquariums or for use in water, make sure you double-check if they are safe to use in a tank with water. 
📚 Read Also >> What are the best tanks for red-eared sliders?
How To Set Up Your Heater Properly
Read and understand your heater's manual thoroughly. Take note of any precautions you'll need to take especially with plugging it into your electrical outlet.
Use clean water to test your water heater. You can test it's heating capacity in a small tub first and monitor how fast it reaches your desired temperature. Make sure you use an accurate thermometer to test your heater.
If your heater is submersible, make sure you mount it in a place inaccessible to your turtle.
If it is an external heater, make sure you set it up correctly with your water pump or canister filter and test the water flow before you turn it on.
Once the temperature is stable and is at the proper temperature, you can add your turtle in the tank.
Aquarium Heater Safety Precautions
With aquarium heaters, the best safety precaution would be to read and understand the manual the product comes with so that you can set it up safely and properly for your turtle.
Here are some quick reminders:
Make sure submersible heaters are in the water and external heaters have water flowing through them before turning them on.
Check that the wiring going towards the electrical outlet is safe and kept waterproof.
Always use a thermometer to check if the water has the proper temperature before placing your turtle. A good practice is to check the temperature every day during feeding time so you can monitor if your heater is working properly.
A good precaution would be to install a Ground Fault Circuit Interrupter which is designed to automatically shut off electrical power in the event of a ground fault. As with any electrical equipment, especially those you use around water, make sure everything is set up properly for safety and that all the necessary precautions have been made to avoid any untoward incidents.
Thermometer
Using an accurate thermometer to monitor your water temperature will ensure the safety of your turtle. Again, always check that the water temperature is at the proper level before putting your turtle in the water. 
Stick on thermometer strips with an LCD reading are an inexpensive way to monitor the temperature in your tank. These can be placed outside the tank to monitor the water temperature (make sure these are the ones that are able to read the water temperature through the glass). Another can be placed close to the basking area to monitor the hot part of your tank. 
Other thermometer types are ones with a metal probe with a digital readout which are very accurate, aquarium thermometers, and temperature guns. Glass thermometers are also available but are usually avoided since these can be broken if dislodged by your turtle.
Keep two thermometers in the water just in case one is broken (you may not notice it) and keep a consistent schedule to monitor your tank's temperature (an example would be during feeding time) so you can catch any big temperature changes immediately.
Heater guard
Heater guards are a protective cover used to keep aquarium heaters safe from breakage. Since turtles can get quite heavy and are natural diggers, they can sometimes break aquarium heaters. This will serve as protection from the heating element becoming exposed and accidentally burning or electrocuting your turtle. Often, a second plastic cage to keep your turtle from actually touching the heater is a good safety precaution even for those aquarium heaters that are built with a cage around the heating element. 
Dual heaters
A good technique to do to prevent overheating and to ensure you always have a backup heater is using two lower powered heaters in your aquarium. The combined wattage of these two heaters should be the power rating required for the tank size that you have. For example, use two-150 Watt heaters for an 80 gallon tank that requires 300 Watts to heat. 
If one heater overheats, it will not have enough wattage to heat up your tank significantly and if one breaks, your water will not immediately lose heat and you'll have a back up. It will also help keep your water temperature consistent and stable throughout the tank. 
Conclusion
The most important thing to consider with turtle tank heaters is safety, so make sure you are getting a durable, well-made, and effective heater. Stay away from cheap ones as they can be risky and unreliable. Most heaters have a lot of safety features in place but you should always double-check and keep a good monitoring schedule for the temperature in your tank.
Make sure to choose the correct power required to heat up your water based on your tank size as well. Finally, always be familiar with all the precautions you need to put up and to read the manual carefully to make sure that your turtle tank heater is set up properly.
FAQs
At what temperature do turtles hibernate?
Turtles will start to brumate if temperatures fall below 50°F. If you have an outdoor turtle, and temperatures fall below 50°F, they will get natural environmental cues and start to go into hibernation. Indoor turtles kept as pets should not brumate. It's best to keep indoor turtle tanks at the ambient temperatures to ensure its good health. 
Do red eared sliders need a water heater?
Yes, especially if the ambient temperature in your house goes below 75°F. Hatchlings and juveniles will also need a higher water temperature at 78-80°F. RES are known to be hardy and tolerate a wide temperature range. However, it's best to keep your water at the proper temperature for turtles.
Can I put a heating pad under my turtle tank?
Under-tank heating pads are usually made for dry reptile enclosures. With heating for a turtle tank, it's usually best and safer to go with the submersible or external kind. These heating pads may not be able to heat up the amount of water in your tank effectively as well (water has a higher heat capacity than most reptile substrates so it will take more power to heat it up). Especially if you want to place it under the tank, outside the glass. It will even take up more energy to penetrate the glass and heat up your water. In addition, these may not be rated to be waterproof.
Can hot water kill turtles?
Yes, hot water can kill turtles especially if it's water at 95-105°F and above and your turtle has been in the water for a long time (5 minutes or more). Quick temperature changes are also fatal for ectotherms (cold-blooded) animals because it shocks their system.
Can turtles die from cold water?
Turtles will survive in cold water as long as it is not freezing since they have the natural ability to hibernate. In cold water, they will stop eating and get the signal to hibernate. They can become sluggish and lethargic as well in waters kept at 40-50°F.
Further Reading
Quick Care Guide on Turtles
Red-Eared Sliders
Slider Turtle Care Sheet
Care of Aquatic & Semi-Aquatic Turtles (PDF)
Hibernation Guidelines for Turtles and Tortoises
Housing guide on turtles:
Housing Aquatic Turtles
Great sub-Reddit for turtle enthusiasts:
Red Eared Sliders – Owners and enthusiasts!