Have you noticed anything weird about your turtle? Do you think your turtle may be suffering from an illness? Read on to find out how to tell if your turtle may be dying.
In this guide, you'll learn:
6 Signs Your Turtle Is Dying
4 Common Turtle Illnesses
How Can You Help A Dying Turtle?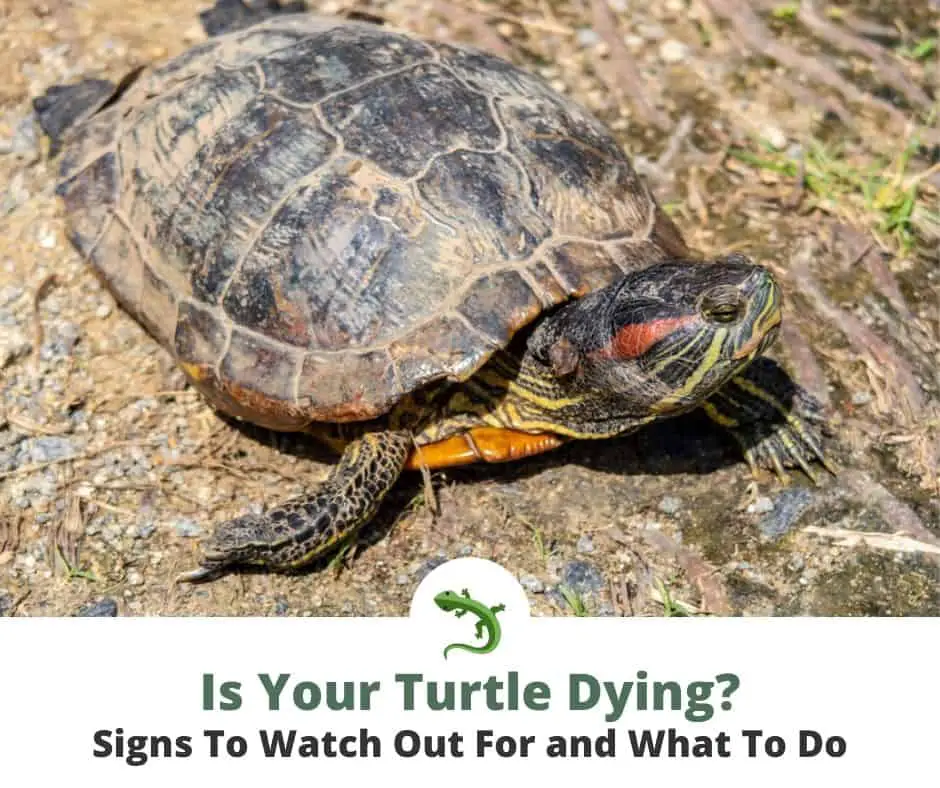 The primary indications of a dying turtle are increased basking, lack of appetite, foaming at the mouth/nose, lethargy, coughing/sneezing, and lopsided swimming.
Six Signs That Your Turtle Is Dying
Increased Basking
Lack of Appetite
Foaming at the mouth or nose
Lethargy
Coughing, sneezing, or whistling sounds
Lopsided swimming or difficulty with balance
Physical Symptoms
Turtles are cold-blooded animals, so changes in their physical appearance can be a sign of illness. If your turtle is not eating or has lost its appetite, this could indicate an underlying health issue. Other physical symptoms to look out for include labored breathing, discoloration of the shell or skin, swollen eyes and/or limbs, and any unusual lumps or bumps on the body.
Behavioral Changes
Sick turtles may become lethargic and inactive. They may also hide more often than usual or avoid contact with humans. A decrease in activity level can signal that something is wrong with your pet's health. Additionally, notice any changes in swimming behavior, such as difficulty maintaining balance while floating or sinking to the bottom of the tank. These could also be signs of illness.

Suppose you notice any unusual sounds coming from your turtle, such as wheezing noises when they breathe. In that case, this could indicate respiratory problems like pneumonia and should be addressed immediately by a veterinarian specializing in reptiles. Additionally, pay attention to any foul odors coming from your pet's habitat; these may suggest bacterial infections that require treatment immediately.
Four Common Turtle Diseases
Respiratory Infection
Metabolic bone disease
Ear abscess
Respiratory Infection
Respiratory infections are one of the most common diseases that can affect turtles. These infections occur when bacteria or viruses enter a turtle's respiratory system, leading to inflammation and difficulty breathing. Symptoms include mucus around the eyes and nose, lethargy, loss of appetite, and coughing or wheezing. If left untreated, these infections can be fatal for turtles.
Shell rot and soft-shell disease
Shell rot is an infection caused by bacteria that attack a turtle's shell from the inside out. It causes discoloration on the shell and softening of the scutes (the individual plates that make up a turtle's shell). In severe cases, it can cause holes in the shell, which may lead to further complications such as bacterial or fungal infection if not treated quickly.
Other causes of illness
Parasites
Turtles are prone to parasites such as flukes and worms, which can cause serious health issues if not treated. Symptoms of these conditions may include weight loss, lack of energy, swollen eyes or skin lesions.
Fungal Infections
Fungal infections are also common in turtles; they typically appear on the skin but can spread to other organs like lungs or kidneys, depending on where they take hold in your pet's body. Signs of a fungal infection include white patches on the skin accompanied by itchiness and irritation in affected areas.
A proper tank cleaning schedule is vital to maintain water quality, and removing excess food after mealtimes are good practices.
How To Help A Dying Turtle
Medications & Supplements
Medications and supplements can help manage a sick turtle's symptoms. Antibiotics, antifungals, anti-parasitics, vitamins, minerals, probiotics, and other medications may be prescribed by your veterinarian, depending on the diagnosis. It is essential to follow all instructions carefully when administering any medicine or supplement, as incorrect dosages can have severe consequences for your pet's health.
Dietary Changes
Dietary changes are often necessary to ensure that a sick turtle receives adequate nutrition during its recovery period. This may include adding more proteins or fiber to their diet and providing additional vitamins and minerals through dietary supplements.
Additionally, it is vital to ensure that the food you provide is fresh and free from bacteria or parasites, which could further complicate an already delicate situation.
Additional Tips
Proper care during treatment periods is essential to ensure that your pet can recover fully.
Maintain clean water and enclosure
Maintain proper temperature and humidity levels
Monitor food intake
Avoid stressors like handling or loud noises
Remove uneaten food after feeding
Regular vet visits
These steps will help with their physical healing and improve their overall well-being while recovering from illness or injury.
Increase temperatures and ensure your turtle stays warm is one of the best ways to help fight of disease and illness. Raise the water temperature to 85 ˚F or use a heat lamp in a separate enclosure to isolate them. This will help encourage their immune system to take action.
What To Do With A Dead Turtle?
Burying a dead turtle is the best way to deal with a deceased turtle. Some pet services provide crematory options as well.
Do not place them in creeks, rivers, or water systems, including storm drains. This could cause other wildlife to become sick. Burying them and allowing them to decompose properly is the best course of action.
FAQs
What are the signs of a turtle dying?
Signs of a turtle dying can include lethargy, loss of appetite, difficulty swimming or floating in the water, discoloration or darkening of the shell and skin, lack of movement or activity, shallow breathing, or no breathing at all. If you notice any changes in your turtle's behavior that last more than 24 hours, it is essential to seek veterinary care as soon as possible.
Do turtles die easily?
No, turtles do not die easily. With proper care and attention, they can live for decades. Turtles need a clean habitat with the right temperature, humidity levels, and access to food and water. They also require regular health checkups from a qualified veterinarian to ensure their well-being. If these needs are met, turtles can live long, healthy lives in captivity.
Is my turtle dying or hibernating?
Signs that your turtle is hibernating include: decreased appetite, slowed movement and respiration, and being less active overall. However, suppose you notice any other symptoms, such as discoloration of the shell or skin, difficulty breathing or swimming, loss of appetite for extended periods, or unusual behavior. In that case, it's best to immediately take them to an experienced reptile veterinarian, as these could indicate illness rather than hibernation.