Thermometers help ensure that your beardie's tank is at the optimal temperature. The best bearded dragon thermometer is actually having two thermometers!
Check out our guide below for recommendations and how to use bearded dragon thermometers properly.
In this guide, you'll learn:
Which bearded dragon thermometer do you need?
Why do you need a thermometer?
How to properly use a thermometer in your beardie's tank.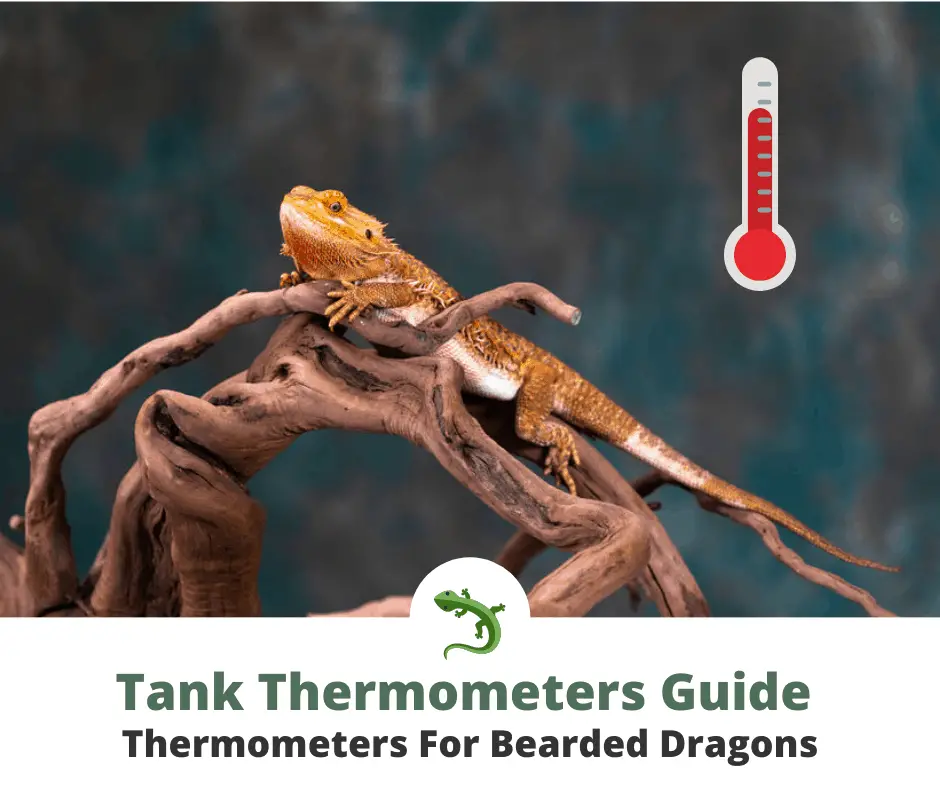 We recommend owning 2 thermometers– one to keep at the warmer, basking section of your tank and one for the cooler area of your bearded dragon's enclosure. It's also a good idea to own a spot check thermometer for quickly checking the accuracy of each section in your tank.
Maintaining the recommended temperature in your bearded dragon's tank accurately is essential for its health and a good thermometer is required to monitor this. A lot of your bearded dragon's metabolic functions, such as digestion, depend on the correct temperature in its habitat. The guide below will help you with important points regarding the temperature setup in your pet's habitat and help you decide which thermometer is best for you.
Best Thermometer for Bearded Dragons
Thermometers are one of the key features to include in your bearded dragon's habitat. It's a simple, yet important device to have in your set-up. While it may seem hard to go wrong when choosing a thermometer, there are certain features you should definitely look out for to make sure you're making the best choice. You'll also want to have at least two to check on the hot and cool parts of your enclosure.
🏆 Our Overall #1 Top Pick
We recommend adding this temperature gun to your bearded dragon care kit along with an in-tank thermometer. The Etekcity Lasergrip IR Temp Gun is perfect for quick spot-checking in your beardie's enclosure. Laster temperature guns like this one let you quickly check basking areas and cooler spots to make sure you're providing the best environment possible.
If you're serious about bearded dragon keeping, this tool is a must-have. We don't love that it takes 9V batteries, but we've found the battery lasts a very long time and the auto-shutoff feature is handy. Do not point this laser in your eyes, someone else's eyes, or your bearded dragon's eyes.
Image
Product

Etekcity Lasergrip IR Temp Gun

Infared thermometer

Laser temp guide

Battery included

Infared thermometer

Laser temp guide

Battery included

Check Price

Zoo Med Labs Digital Thermometer and Humidity Gauge

Thermometer & Hygrometer

Compact

Battery included

Thermometer & Hygrometer

Compact

Battery included

Check Price

Zoo Med ReptiTemp Digital Infrared Thermometer

Infared thermometer

Compact

Battery included

Infared thermometer

Compact

Battery included

Check Price

Reptile Thermometer and Humidity Sensor by JLENOVEG

Thermometer & Hygrometer

Compact

Battery included

Thermometer & Hygrometer

Compact

Battery included

Check Price

SensorPush Wireless Thermometer/Hygrometer for iPhone/Android

Thermometer & Hygrometer

Compact

Battery included

Thermometer & Hygrometer

Compact

Battery included

Check Price
How to Choose a Good Thermometer?
Durability
You will use your thermometer quite often so it's good to invest in a good quality one that is durable. Especially for the thermometer near your basking spot which can take a lot of beating in the extreme temperatures. The durability of a thermometer will also ensure that it doesn't break down unexpectedly, and possibly without you noticing it, which can lead to inaccurate temperature readings. These can lead to health problems for your beardie such as loss of appetite if the temperatures drop too much.
Accuracy
It goes without saying that you need accurate temperature readings to ensure that you are getting the correct temperature ranges for your dragon's habitat. This is a non-negotiable since your bearded dragon's health depends on it! It's good practice to always keep an extra thermometer handy to check the accuracy of the ones in your enclosure.
Power Source
Most digital thermometers will need batteries to run so you should factor these in when you choose. It's good to invest in rechargeable batteries so you can cut down on waste and running costs using disposable batteries. However, there are also some thermometers that you can plug in so you won't have to worry about changing (or forgetting to) the batteries.
Method of reading the temperature
Thermometers can read the temperature of an object directly using a probe by measuring the resistivity of the object. This is quite accurate but will measure the temperature of an object directly so it may not accurately represent the ambient (or air) temperatures in your tank. 
Another method is via infrared (IR) light which is the most advanced and quickest way to get a reading. These are found in temperature guns and are quite useful and handy since you can just point at anything and read the temperature accurately. 
Lastly, some thermometers take the ambient temperature of an area. These usually take some time to stabilize and read the temperature of an area accurately.
Usually, you'll want to know the exact temperature for your basking spot so probe type or IR temp guns are highly recommended thermometers. 
Unit of reading (Fahrenheit vs. Celsius)
Though most thermometers are able to switch between different temperature units, you should make sure that the one you're getting displays the unit you are comfortable with. You don't want to have to convert every time! You may also want to go for thermometers with a large display so that you don't have to peer into your tank so much when reading the thermometer.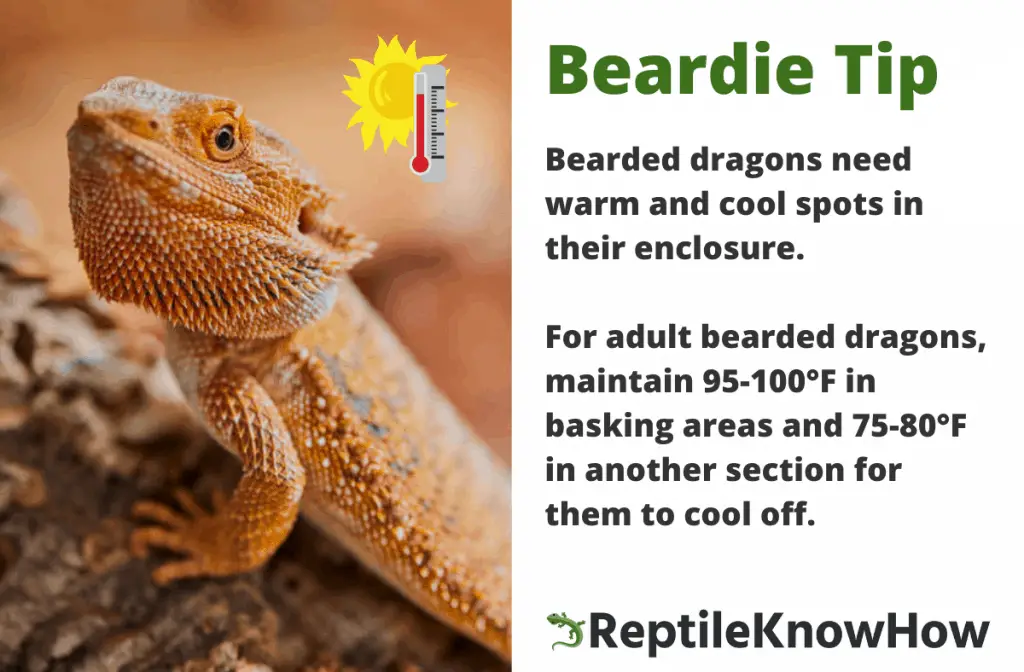 Different Types of Thermometers
There are generally three types of thermometers to choose from, each differing mainly in the accuracy of a reading, how quick you can get a reading, or how to take a reading. Thermometers with built in hygrometers are also available.
Digital Thermometer
Digital thermometers are battery operated thermometers that usually come with a probe that uses a resistor. They display the temperature reading on a small digital LCD screen and are usually quite accurate. The probe type digital thermometers are great for taking the temperatures of exact spots like the hot or cool zones of your tank.
Analog Thermometer
Analog thermometers do not require batteries and have a dial against a printed temperature scale to show the temperature reading. They work by using differential thermal expansion of a bimetallic strip. 
Chemical Thermometer
Chemical thermometers usually use mercury or another thermosensitive substance in a thin glass bulb and strip. Changes in temperature cause the chemical substance to expand or contract moving up or down the strip. The temperature is read against a graduated scale or background (calibrated with measurements like a ruler).
2-in-1 types (with built in hygrometer)
Some thermometers have a built in hygrometer or humidity gauge to read the humidity levels in your enclosure. These are also great since you can just have one device to read both temp and humidity levels in your tank. For these, make sure you are getting a good kind as well since you need to make sure both readings are accurate. 
Many reptile owners swear by having a temperature gun in your arsenal since this makes reading the temp of just about anything in your enclosure easy peasy. It's even useful for taking the temperature of your beardie's bath water. The Etekcity Lasergrip 1080 Temp Gun is a good choice since it is quite durable and accurate. 
It has a nice laser guide function and can read temperatures from as far as 14 inches away. It also has a nice back-lit display with an auto shut off feature for longer battery life. 
This temperature gun in combination with 1 or 2 probe-type digital thermometers completes an excellent setup for your enclosure and makes it the top pick for a thermometer due to its versatility and accuracy. 
Key Features:
Temperature range:  -58-1022°F with a 0.1° resolution
Includes a 9-V battery
0.5 second response time
With built-in laser guide for easy reading of a particular area
Backlit LCD with auto-shutoff feature
Reads accurately from 14.17 inches away
👍 You can lock the temperature reading in the display if you want to record it
👍 Very durable and accurate
👍 Long battery life
👍 Large, easy to read, backlit display
👎 9V batteries can be expensive and are sometimes harder to find
Zoo Med is a trusted brand in reptile care products and their 2-in-1 thermometer and hygrometer is a great and practical addition to any bearded dragon tank. 
It's a non complicated digital thermometer with a separate probe for heat and humidity readings. The wires are 1-meter each so you can set this up in your tank in any configuration easily.  This is an affordable choice that's also quite reliable.
Features:
Quick and easy to read digital display
Waterproof temperature probe
Independent, remote sensor or probes for heat and humidity for more accurate readings
Offers readings in both Celsius and Fahrenheit 
👍 Long lasting battery
👍 Compact design fits all tank sizes well
👍 Easy to use
👍 Probe is waterproof
👎 LR44 batteries can be a bit hard to find
👎 Digital display is small, hard to read, and not backlit.
A cheaper alternative to an expensive temp gun is this Zoo Med ReptiTemp Digital Infrared Thermometer that's great for measuring the temperature of all the nooks and crannies of your enclosure with a click of a button. If you're monitoring temperatures, this also has a min/max function so you can quickly check for fluctuations. 
The display is easy to read and even includes a clock. This is a good value for money infrared thermometer that will allow you to quickly take the temperature reading in your enclosure with a single button.
Features:
Great for Monitoring Basking Areas, Thermal Gradients, Incubation, and Hibernation Temperatures with one click readings
Temperature range -28° to 230°F
Has a minimum and maximum function to check for fluctuations
Switches between temperature units
Includes one CR2032 Lithium cell battery
👍 Long lasting battery (included) that's easy to change and is readily available in most watch stores
👍 Compact size will let you measure the temperature anywhere in your enclosure with ease
👍 Accurate temperature readings
👍 Easy to use
👎 Measures the temperature of a certain object and not the ambient temperature
A simple and affordable ambient temperature sensor that sticks or hooks onto your tank. This relatively new player in the reptile scene is a good alternative that has the same accuracy and reliability of known brands. The display is easy to read yet the size is compact so it does not clutter up your tank. 
This is a good addition to any tank that gives you the ambient temperature measurement which is great for quick, at-a-glance, temperature checks.
Features:
Stylish design, easy to read display
Easy to install, compact unit
Accurate temperature and humidity measurement
Temperature range: 14°-122°F
Humidity range: 20-90%
Comes with a battery (1.5 V LR44)
👍 Quick and easy installation with a versatile hook or stick on function
👍 Easy to read display
👍 Affordable but good quality 2-in-1 thermometer with a hygrometer
👎 Switching between units is done at the back
👎 Not waterproof so be careful not to mount it above your water dish in case it gets dislodged
These days, everything has an app, so don't be surprised that you can hook up your thermometer and hygrometer to your phone and monitor your tank's temperature and humidity levels effortlessly with this nifty gadget by SensorPush. 
This ambient temperature and humidity sensor will push temperature readings to your phone if you're in Bluetooth range (a gadget sold separately allows you to do this over data/WiFi). It also allows you to store data for up to 20 days and has an alarm feature if the readings rise or drop anomalously. The app also allows you to visualize the data so you can check if your basking bulbs or heating lamps are working well. 
This is a very advanced thermometer and hygrometer set-up with great features. If you get two for your tank you'll be able to seamlessly monitor the temperature throughout your set-up through the app.
Features:
Flexible: Add a SensorPush G1 WiFi Gateway (sold separately) for data and alerts via the Internet
Keeps you up to date as long as you are within Bluetooth range (325 feet/line of sight range)
Easy one-time setup with a free app (iOS or Android)
Swiss-made sensing component provides reliable and accurate measurements
Set it and forget it feature: pushes readings to devices via Bluetooth and alerts you if there's a problem
Battery: CR2477 (user replaceable)
Temperature Range: -40° to 140°F with a 0.5° accuracy
Humidity Range: 0 – 100% (but accurate range is until 80%)
👍 Monitoring capability up to 20 days with a problem alert feature
👍 Data visualization via the app
👍 Accurate and reliable with a long battery life
👎 Not waterproof
👎 Will not read extremely high temperatures above 140°F
👎 Expensive
What's The Best Temperature For My Bearded Dragon Enclosure?
Proper Temperatures for a Baby Bearded Dragon
The basking spot temperature should be 100-110 °F for babies (0-2 months) with the cooler part of the tank ranging from 80-90°F. The heat helps with your dragon's digestion which helps them grow well.
📚 Read More >> How Big Do Bearded Dragons Get?
Proper Temperatures for a Juvenile Bearded Dragon
At the early part of the juvenile stage (2-6 months) of a bearded dragon, about 2-3 months, they can maintain warmer temperatures at about 98-100°F to aid with their growth. Juveniles will do fine with slightly cooler temperatures in the 95-100°F range for their basking spot and 75-80°F for the cool side.
Proper Temperatures for an Adult Bearded Dragon
Adult bearded dragons (8 months onwards) can tolerate cooler temperatures so their basking spot can be 95-100°F with the cooler part of the tank at 75-80°F.
Nighttime Temperatures
Nighttime temperature in your terrarium should be between 70-75°F. However, you may have to adjust this depending on your tank's size or the ambient temperature at your home. If the weather is a bit cooler, then you should consider using a heating pad or a ceramic heating element to maintain the temperature at night.
Where to Place the Thermometer in a Bearded Dragon Enclosure
You will need two thermometers one on the highest perch of your basking spot (nearest to your bearded dragon basking lamp) and another at the cooler side of your tank on the other end. It's also good to have another back-up thermometer or a temperature gun which will be quite useful for spot checks.
You should also watch for excess humidity or stale air in your enclosure which can lead to inaccurate temperature readings. Avoid this by making sure your tank has good ventilation using a screen cover and placing it in an area with good airflow.  
📚 Read More >> Best Enclosures For Bearded Dragons
FAQs
What Temperature Should a Bearded Dragon's Tank Be?
The temperature in a bearded dragon's tank should range from 75-80°F in the cooler part and 95-100°F in the hotter part near the basking spot during the day.
At night, the temperature should be between 70-75°F. If the ambient levels fall below 65°F at night, consider using a heating pad or a ceramic heating element to heat up the tank at night. Take note that babies and juveniles will need slightly higher temperatures in their basking spot during the day to aid with their digestion and hence, growth.
Where Should I Put The Thermometer In My Bearded Dragon Tank?
Put one thermometer on each end of your tank to monitor the hot and cool part of the tank. Put the thermometer on the hot part near the highest perch of your basking spot right below the heating lamp where your bearded dragon basks.
It's important to keep a good temperature range in your tank to help your beardie regulate its body temperature as it pleases. Providing a few hiding spots and several levels near the basking lamp will help as well.
How Long Can Bearded Dragons Go Without Heat?
As long as the temperatures do not fall below 65°F, bearded dragons can survive without heat for 24 hours (1 day). After that, the lack of heat will start to have consequences on their health since they will not be able to digest their food properly. It can also lead to lethargy and a loss of appetite. They may start to go into brumation as well which is not good if they are babies or juveniles since this will affect their growth.
Keep a spare heat lamp or basking lamp in the event that the one in your tank breaks. If you don't have one, keep a covered heat pad near your beardie or run to the nearest hardware store and purchase a 65W flood lamp to use temporarily.
Can Bearded Dragons Die From Too Much Heat?
Yes, bearded dragons can suffer from too much heat. They can die from a stroke or overheating. Pay closer attention to your tank's temperature especially when you have a smaller tank that may not retain a big enough temperature range from hot to cold. If you notice your bearded dragon digging or trying to escape the tank, then it may be too hot.
Pay attention to the temperature on your basking spot as well (the surface your dragon perches on to bask) – the temperature of the rock or driftwood should not exceed 120°F because this can easily scald their tummies. The skin on their bellies is quite thin and a temperature of 122°F and above can lead to cell injury or death.
Conclusion
If you have the budget for it, go for a handheld temperature gun in addition to a digital probe-type thermometer for your basking spot and an ambient temperature reader in your cool spot. This allows you to monitor any spot of your tank with the temp gun but also quickly check the hot and cool side at a glance. However, a lot of budget friendly options also exist with several digital thermometers (both probe and ambient type) available in the market. 
Though a thermometer may be a simple gadget for your bearded dragon set-up, your dragon's health and well-being relies a lot on it. Small changes in your temperature can lead to loss of appetite and indigestion so make sure you are able to monitor your temperatures well with a good quality and accurate thermometer. 
Further Reading
Great subreddits on enclosure setups:
Is my tank set up okay?
New tank set-up. Feedback requested
Outgrown 40-g tank set up
Overview on Bearded Dragons:
Bearded dragon
Bearded dragons: facts and photos
Quick care sheet for a bearded dragon (PDF):
Bearded dragon husbandry 
Great article that explains bearded dragon care
Husbandry and veterinary aspects of the bearded dragon (pogona spp.) in Australia