Looking for the best turtle food to feed your red-eared slider? Improper feeding is a leading cause of illness in captive turtles.
In this guide, you'll learn:
What are the best foods for red-eared sliders?
What nutrients do red-eared sliders need to stay healthy?
What are the best feeding methods?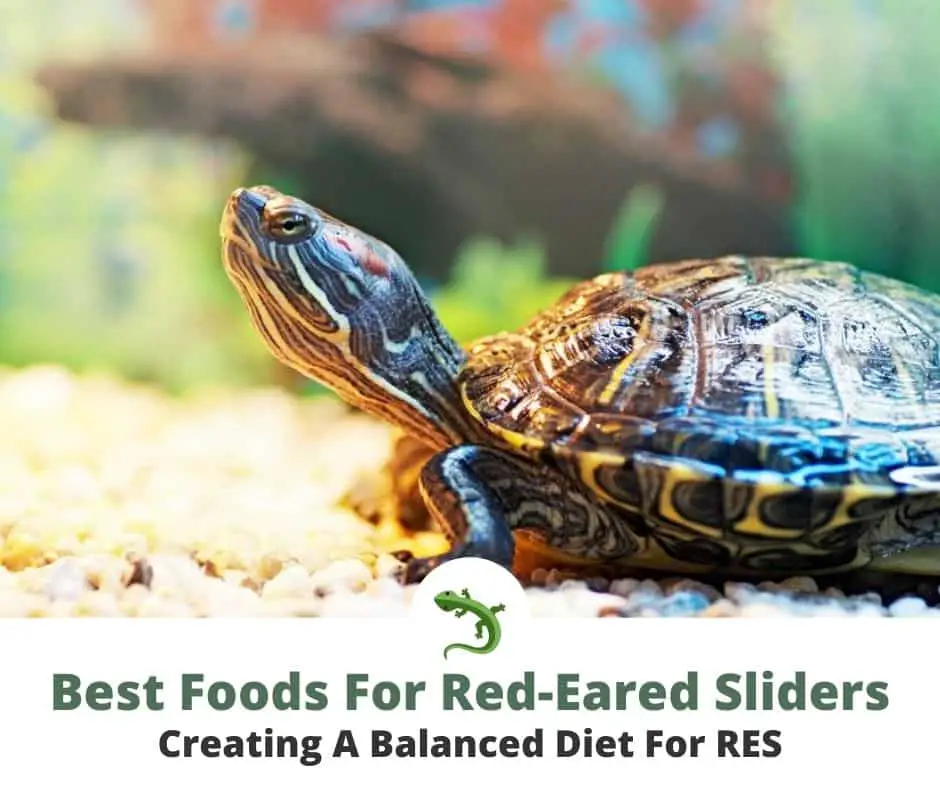 A diet with proper nutrition and variety will help keep your RES healthy. Pay attention to what you feed your turtles as an improper diet is a leading cause of health problems in captive turtles and other reptiles. We review a bunch of food staples here and give you information on other types of food your RES can enjoy.
Image
Product

Tetra ReptoMin Floating Food Sticks

Protein, caclium, and Vitamin C

For all life stages

2.82 pound bag

Protein, caclium, and Vitamin C

For all life stages

2.82 pound bag

Check Price

Supports healthy digestion

Supports healthy digestion

Wardley Turtle Food Sticks With Probiotics

Probiotics for healthy digestion

For juveniles and larger

3.7 ounce container

Probiotics for healthy digestion

For juveniles and larger

3.7 ounce container

Check Price

Fluker's Buffet Blend Aquatic Turtle Food

Great nutritionally balanced choice

For all life stages

7.5 ounce container

Great nutritionally balanced choice

For all life stages

7.5 ounce container

Check Price

Fluker's Freeze Dried River Shrimp

High in protein and amino acids

For all life stages

1 oz. container

High in protein and amino acids

For all life stages

1 oz. container

Check Price

Tetrafauna Pro ReptoMin Juvenile Turtle Formula Sticks

Protein and calcium rich

For babies and juveniles

12 oz. container

Protein and calcium rich

For babies and juveniles

12 oz. container

Check Price
---
Tetra is a great brand for reptile needs and these scientifically formulated, easy to digest, food sticks provide a good food source for red-eared sliders with high-quality proteins and essential amino acids added to promote good health. These also have calcium for good shell growth and vitamin C to boost immunity. This can be fed to most turtles of all life stages and easily floats for convenient feeding. 
👍 Pellets are small enough to be fed to most turtle sizes (3" and above)
👍 Floats for convenience 
👍 Packed with vitamins, minerals, and protein
👎 Disintegrates faster due to size so they can muck up your water if not cleared soon enough
Another great choice is Wardley's turtle food sticks which are fortified with both calcium and probiotics for good shell and digestive health. It also has Vitamin C for an added immunity boost. It is odor and stain reducing since it does not have artificial coloring. Fish meal is the main protein source for these pellets/sticks which is a highly digestible protein source for turtles. Overall, a great choice for red-eared sliders at all life stages.
👍 Fortified with calcium, probiotics, and vitamin C
👍 Odor blocking
👍 Stain reducing
👎 Tends to easily disintegrate
Fluker's is a well-known producer of reptile and exotic pet-related products. Their buffet blend aquatic turtle food is a perfect addition to regular pellets for a bit of variety. It can also serve as a treat since these have dried mealworms. Their main ingredient is freeze-dried shrimps which is closer to what turtles would eat in the wild. The blend also includes vitamin-fortified pellets to help promote the good health of your red-eared slider.
👍 Odor blocking formula helps keep your aquarium cleaner
👍 Added nutrition specific for juveniles
👎 Sinks faster than other pellets
Small shrimp and fishes are what aquatic turtles would usually eat in the wild so these freeze-dried river shrimp by Fluker's is a great way to bring some variety into your turtle's diet. It's a great source of protein and amino acids, especially for juveniles. This is a highly recommended brand because of its quality and all-natural ingredients.
👍 Odor blocking formula helps keep your aquarium cleaner
👍 Added nutrition specific for juveniles
👎 Sinks faster than other pellets
Juvenile red eared sliders will need extra protein and calcium for their growth and Tetra Pro Juvenile Turtle Formula Sticks provide just that. It's also the perfect size for turtles that are between 2-5 inches so you don't have to worry about feeding problems. With improved digestibility and added beta-glucans for a strong immune system, these sticks are great for your growing RES. 
👍 Odor blocking formula helps keep your aquarium cleaner
👍 Added nutrition specific for juveniles
👎 Sinks faster than other pellets
What Are The Different Types Of Food That Are Safe For RES?
Red eared sliders are omnivores so they will eat both plants/vegetables and meat. As hatchlings and young turtles, they need a bit more protein in their diets to help with growth. However, it's good to introduce vegetables and other plant matter to their diets early so they get used to it as adult turtles. 
A varied diet will keep things interesting for your RES as prey items will help with exercise by allowing them to hunt for their food. Giving your RES different types of food will also keep them from being bored. Fresh food such as greens and other aquatic plants also provides a good source of nutrition for your RES.
📚 Read More >> Which Vegetables Are Safe For Red-Eared Sliders?
Make sure the protein or carnivorous part of your turtle's diet is about 70% as juveniles and 50% as adults with the rest being made up of plants and vegetables.
Pellets
Pellets are the most convenient choice of commercial turtle food for your RES and are often inexpensive. Good quality turtle or fish pellets have vitamins and minerals to promote good health. Pellets differ mainly in size with larger ones capable of floating longer and are best for larger or adult turtles. Smaller pellets are better for hatchlings and juveniles.
Leafy Greens/Vegetables
Dark leafy greens that have high nutritional value are best for your RES. These include: romaine lettuce, mustard greens, kale, green beans, collard greens, carrot tops, and Swiss chard. Choose greens that float easily or cut your veggies into bigger pieces so they can float for a longer time. This will allow your RES to nibble on it as it pleases. Try to stay away from greens that have high water content such as iceberg lettuce as these have little nutritional value.
Bell peppers, squash, and other red/yellow colored veggies rich in vitamin A will also do well for your RES. Fruits, on the other hand, could give your turtle diarrhea so feed them sparingly. 
Aquatic Plants
Owners are often warned about keeping aquatic vegetation in with their turtles as they are known as voracious eaters and diggers. However, aquatic plants can also provide variety in your turtle's diet. Choose safe, non-toxic aquatic plants like azolla (fairy moss), frog-bit, duckweed, water lilies, water hyacinth, and water lettuce. Fast growing plants are also recommended so that the growth can keep up with your turtle munching on it. 
Live Feed/Prey Items
Live feed or prey items such as feeder fish (small goldfish, guppies, minnows) are a great way to stimulate and exercise your RES as it hunts down its food. Frogs and tadpoles, earthworms, aquatic snails, beetles, slugs, mealworms, bloodworms, silkworms, and a variety of insects such as crickets also serve as live feed. However, make sure these are responsibly sourced so you are assured that they are parasite free. Wild caught fish and insects are not recommended as these often have parasites and diseases that can harm your turtle.
Freeze dried food items
Freeze dried food such as krill, shrimp, or worms are also a great way to add some variety to your turtle's diet. These are a good alternative to live feed if you're unsure of their source. 
What Nutrients Do RES Need For A Balanced Diet?
Aside from a well balanced diet, pet turtles can get maximum health benefits from different supplements and multivitamins. These also help prevent diseases and help build the immune system of your RES.
Multivitamins
Multivitamins offered in pet stores are a good way to ensure that your RES gets all its nutritional needs. These can be offered 1x a week as adults or up to 2x a week as juveniles. 
Calcium Supplements
In addition to vitamin supplements, calcium supplements will help your RES in shell building. These are especially important during their growth phase. As adults, placing a cuttlebone or a calcium block in their tanks can help provide a steady supply of calcium. Provide calcium supplements twice a week.
Vitamin D3 Supplements
Vitamin D3 is an important nutrient for reptiles such as turtles as these aid in calcium absorption. The natural source of vitamin D3 is sunlight. If your RES cannot get enough sun or UVB light from its basking lamp, then you should definitely provide Vitamin D3 supplements to prevent metabolism related diseases such as metabolic bone disease.
How To Feed Your RES? Best Methods
Turtles are known to be messy eaters. Since they only eat while they are completely submerged (or with their head in the water), leftover food can quickly muck up the water of your tank. There are a few tips and tricks owners can do to help with this.
Inside Their Habitat?
If you intend to feed your RES inside their habitat, you should consistently fish out the remaining food particles your turtle did not eat after every feeding time. This is one of the best ways to prevent waste build up in addition to a good filter and a regular water changing schedule. 
Turtle owners should definitely invest in a high capacity filter with mechanical, biological, and chemical filter cartridges. Get a filter that is rated to work with up to 2x the amount of water you actually have in your aquarium. In addition to a powerful filter, you should regularly change about 25% of the water in your aquarium (1-2x a week) to help prevent the build up of waste. 
Outside Their Habitat?
If you have the means to use a smaller aquarium as a feeding tank for your turtle then this is a great option to prevent the build up of waste from leftover food. This will also allow you to change your water less frequently and use a less powerful filter for your main tank. 
📚 Read More >> How To Fix A Cloudy Turtle Tank
What Is The Best Feeding Schedule?
The age and size of a turtle will usually dictate their feeding schedule. Smaller and younger turtles can eat every day while more mature turtles can eat every other day (about 3-4 times a week). Offer younger turtles smaller sized meals every day while older turtles can get a bigger meal portion every other day. 
However, the feeding schedule can also depend on your pet. Sometimes, small frequent feedings benefit RES even as adults, especially when they are on the hefty side. A good rule of thumb to prevent overeating is to stick to a 5-10 minute feeding window and clear whatever your turtle does not eat after that. This practice also helps keep your water cleaner.
Conclusion
Commercial turtle food such as pellets and sticks are the staple in the diet of red-eared sliders but it's highly recommended that vegetables, plant matter, and live or freeze dried feed are added for variety. In addition, vitamins and calcium supplements should also be given to ensure your pet turtle's good health. As juveniles, turtles will need more protein for growth and as adults, they will need more variety from vegetables and plants. 
FAQs
How often do you feed a red ear slider turtle?
Juvenile red-eared sliders can eat small meals every day while older ones can be fed every other day.
What can I feed baby red eared sliders?
Baby red-eared sliders should get more protein or meat from their diets to help them grow. Give them high quality, smaller sized pellets in addition to vitamins and calcium supplements. An occasional meal composed of vegetables or plant matter will help ease your RES into a more varied and nutritionally dense diet that they need when they become adults.
Can red-eared sliders eat lettuce?
Yes. However, romaine lettuce is recommended versus iceberg and other high water content lettuce varieties. More nutritionally dense vegetables such as dark, leafy, greens are preferred so your turtle can maximize the benefits from their diet. 
Can red-eared sliders eat cucumbers?
Yes, but cucumbers have high water content so feed them to your RES sparingly since they do not get a lot of nutritional benefits from eating cucumbers. Substitute these with vegetables such as green beans or bell peppers to maximize the nutritional value.
References
Quick guide on feeding aquatic turtles:
Feeding Aquatic Turtles | VCA Animal Hospital
A nice list of vegetable and fruit names for omnivores:
Vegetable and Fruit Names: A Multi-Lingual Glossary for Herbivorous and Omnivorous Reptile Keepers
Quick care guide:
Red-Eared Slider Care: Diet, Habitat, & Characteristics
RES sub-reddit for owners and enthusiasts:
Red Eared Sliders – Owners and enthusiasts!
Facts on the Red-eared slider:
Red Eared Slider (Wildlife Facts)
Red-eared Slider (Trachemys scripta elegans) – Species Profile