Has your Leopard gecko taken on a pale appearance? Pale skin can be caused by a few factors that we'll discuss.
In this guide, you'll learn:
Why does your Leopard gecko look pale?
Causes of dull, pale skin
When to see a Vet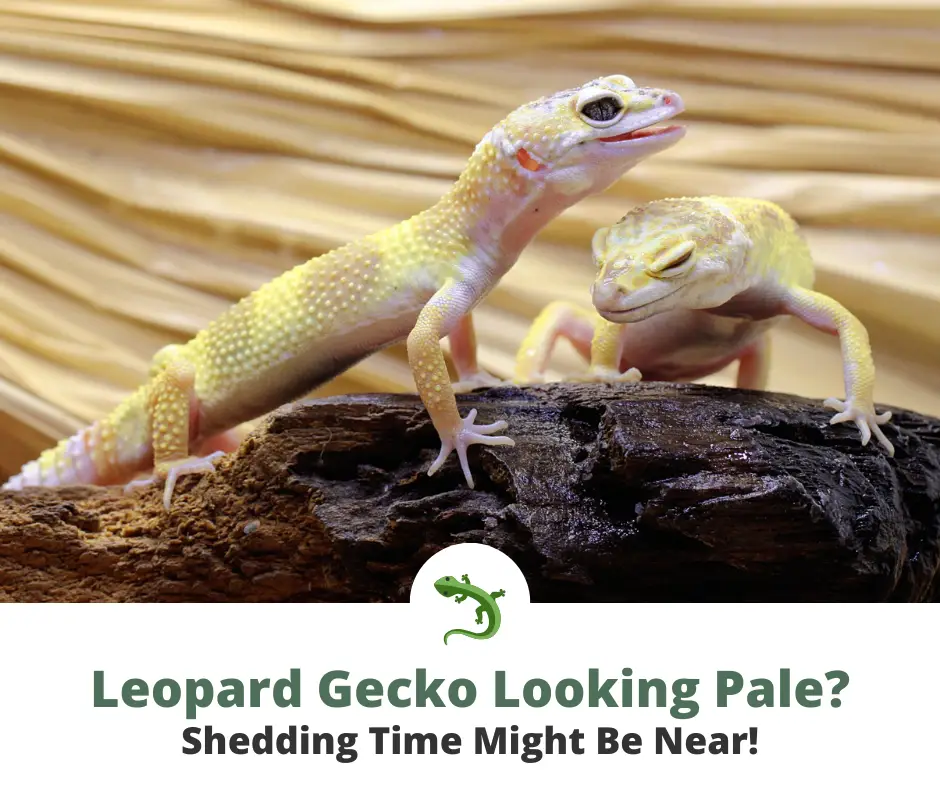 Should You Be Worried If Your Leopard Gecko Is Pale?
You shouldn't be too worried if your Leopard gecko is pale. A Leopard gecko that looks pale or dull in color is most likely preparing for shedding season. The old skin becomes dry as it separates from the new skin that is forming. Because of this separation, the gecko's color comes off as paler or duller than it usually is.
Reptiles are commonly known for their ability to shed their skin, especially during growth phases. Leopard geckos shed in a way similar to snakes, getting rid of the majority of the old skin in one go. 
Why Do Leopard Geckos Become Pale?
The most probable reason your Leopard gecko is pale is preparation for shedding but other health issues may cause pale skin or discoloration like dehydration, stress, preparation for breeding season, fungal or bacterial infection, shedding issues, and heating problems.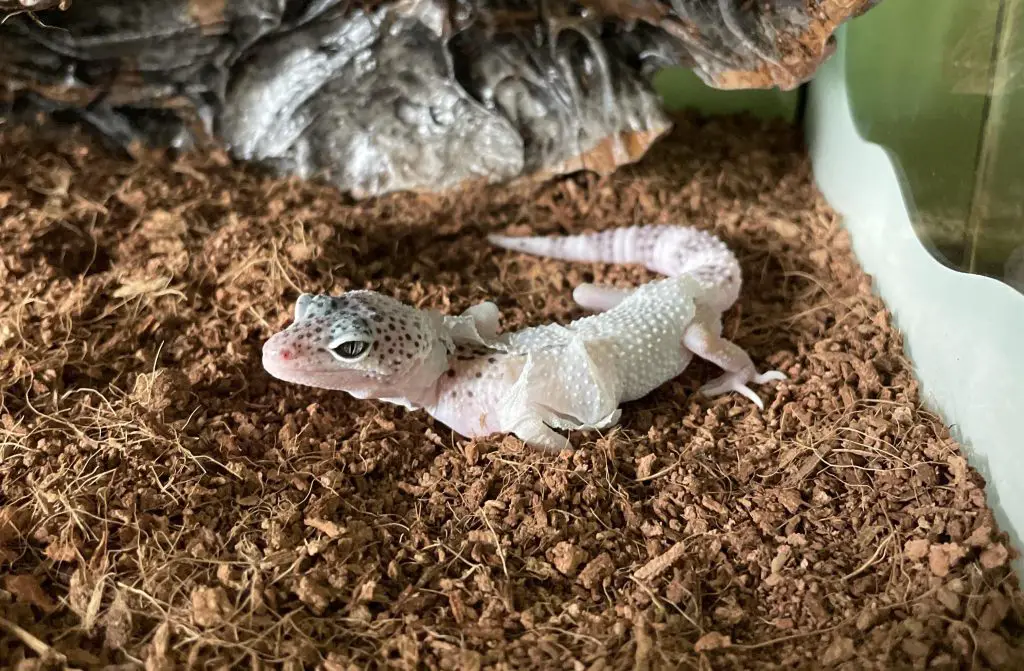 Preparation for Shedding
The old skin (epidermis) dries out
When your leopard gecko is shedding, the skin is not removed but the old topmost layer or the 'epidermis', a protective layer for the more sensitive bottom layer called the 'dermis.' Before shedding, the epidermis will dry out causing your Leopard gecko's skin to become pale or dull looking. Fluid will then be secreted between the old and new skin to loosen it and encourage separation.
The color is transferred to the new skin
The color of a reptile's skin comes from cells called melanocytes and chromatophores. Melanocytes are found in the base layers of the epidermis and chromatophores are found in the dermis. Melanocytes contain melanin which is responsible for dark colors in the skin while chromatophores bear xanthophores (with yellow pigment cells) and erythrophores (with reddish-purple pigment cells). 
As a reptile's skin is renewed, the melanin in the melanocytes of the epidermis is transferred to new cells below it, which causes the old skin to become paler or duller in color as it prepares to be shed.
Dehydration
Dehydration in Leopard geckos will manifest on their skin giving it a dull or pale complexion. They get most of their hydration from the food they eat which is why live insect feed is the best choice for a staple diet so they can maximize the moisture they obtain from food. 
Providing a shallow water dish or a soaking bowl, moist hides in their enclosures, and maintaining the correct humidity levels (30-40%RH) will also help prevent dehydration.
Stress
Stress caused by various health or other issues can cause some discoloration on your gecko's skin as it expends energy to address the factors causing it to stress out. 
Stress often comes from environmental factors, so ensure that your gecko's enclosure is set up correctly. Keep the temperature and humidity in the correct range and invest in accurate thermometers and hygrometers to help you monitor these parameters. 
The temperature on the hotter part of the tank should be 75-88°F over the heat mat or on the rock and 70-75°F at the cooler end. Temperatures at night should not drop below 68-70°F. The humidity should be between 30-40% RH.
Breeding Season
During the breeding season, your gecko's skin can become dull or pale as they become preoccupied with breeding. Dehydration often occurs during the breeding season as well, which causes your gecko's skin to become pale. If you plan on breeding your Leopard geckos, make sure they are at the best of health before you start. 
Female Leopard geckos need sufficient levels of calcium, Vitamin D3, and multivitamins to ensure healthy egg production and prevent egg binding. Male Leopard geckos can also be given Vitamin A supplements to ward of hemipene infections and other health issues.
Fungal or bacterial infection
A bacterial or fungal infection affecting your gecko's skin can cause discoloration. You may notice your gecko's skin become paler throughout or have patches that change in color or texture. If your gecko's skin becomes darker or grows white, it may be a case of dysecdysis (stuck shed) or tail rot (if the color change occurs at the tip of the tail). 
Infections of the skin require early diagnosis and treatment for an increased chance of success at recovery.
Dysecdysis and/or Tail Rot
Dysecdysis is when skin dries around the limbs or toes, shrinks, and constricts blood flow leading to necrosis. It can also occur on the tip of your gecko's tail, leading to tail rot. This happens when the skin is too dehydrated during shedding. If you notice irregular patches of skin that are pale, dull, and dry, your gecko may have some shedding issues.
Treat dysecdysis by soaking the affected area and very gently teasing the skin fragments (if it doesn't naturally come off after the soak) with a soft, damp cotton bud or a pair of tweezers.
To prevent shedding problems, make sure the humidity in the enclosure is 30-40% RH and provide a moist hide or a shallow soaking dish. Rough textured objects placed in your gecko's enclosure will also help.
Vitamin A deficiency has been linked to shedding problems. Vitamin A can be provided in long-term, low-dose oral supplements. Just make sure you consult with your vet on the dosage or follow the instructions on the packet. 
It's too hot
To some extent, lizards can change their skin color to regulate their temperature. Darker colors absorb more heat and the opposite is true for lighter colors. Your gecko may be trying to cool itself down by making its skin look paler, lighter, or duller so it won't absorb too much heat.
Other behavioral changes to watch out for if your gecko is pale
Pro tip: If any of these symptoms last for more than a week after your gecko completes its shed or has regained its skin color then there may be other underlying health issues that your gecko is suffering from so observe them closely or consult your veterinarian.
Lethargy
Your gecko may not be as active or alert in the days before shedding season as it prepares its body. Shedding requires a lot of energy so your gecko may be lethargic during this process.
Loss of appetite
It's normal for a Leopard gecko to refuse to eat during or after the shedding process. It may not eat readily for the next 3-4 days after it completes its shed.
📚 Read More >> Leopard Gecko Not Eating? Here's What To Do
Excessive hiding
Leopard geckos may hide more during shedding to protect themselves during this vulnerable process. 
What Should You Do If Your Leopard Gecko Is Pale?
If it's shedding season, then you should leave your Leopard gecko alone to complete its shed. Minimize handling at this point and make sure it has a moist hide and the humidity in its enclosure is between 30-40% RH. 
If you think the pale discoloration is not caused by shedding, then you should watch out for other behavioral and physical changes that may accompany the change in your gecko's skin color that may point to other health issues.
The best way to help your gecko during shedding or to prepare it to fight any health issues effectively is to ensure its good health. The only way to do that is through proper diet and nutrition, the correct enclosure conditions, and keeping your gecko stress-free.
How To Prevent Health Issues That Cause Discoloration
Proper husbandry
A lot of health issues that affect reptiles in captivity stem from poor husbandry. Though Leopard geckos are known to be quite hardy, it's still best they are provided with the proper care to ensure their health. 
Their enclosures should be kept in the proper temperature range of 75-88°F at the hotter end and 70-75°F at the cooler end. Temperatures at night should not drop below 68-70°F. The humidity should be between 30-40% RH. 
Low-level UVB lighting (13-25 Watt or 2-5%) is not necessary but quite beneficial to their digestive and bone health. Lighting should be in a 12h light and dark cycle.
The health benefits of UVB lighting for Leopard geckos were confirmed in a recent 2020 study on vitamin D3 synthesis in Leopard geckos.
They found that a Leopard gecko synthesizes vitamin D3 when exposed to UVB light. Low UVB level (UVI ≤ 1.6) exposure for 2 hours daily increased the vitamin D3 levels in their blood by 50%.
Multiple hides should be provided especially if they are housed with another lizard (but Leopard geckos prefer to be alone) to help keep stress at bay. 
Good diet and nutrition
Appropriate diet and nutrition also ensure proper hydration for your Leopard gecko since they get as much as 60% of their water intake from the food they eat. Live insect feed is recommended. 
Geckos can be fed small locusts, crickets, silkworms, mealworms, waxworms, superworms, grasshoppers, springtails, and pink or nestling mice. 
Ensure you get these insects from a reputable breeder to ensure they are free from parasites or insecticides that may affect your gecko.
Geckos also need supplemental calcium, vitamin D3, and multivitamins especially if you do not provide UVB lighting. Low-dose Vitamin A supplements can also be provided.
Proper hydration
Shedding issues that can cause your gecko's skin to be paler can be avoided with proper hydration. Moist hides that your gecko can stay in as it prepares to shed will help hydrate its skin by helping it slough off more easily. Sphagnum moss and other moist substrates are often used to provide moisture in the hides. 
Rough tank furniture can also help aid your gecko during shedding and maintain the correct humidity levels at (30-40%RH).
Providing a shallow soaking dish or water bowl and an occasional bath with warm water will also help your gecko avoid shedding problems.
Avoid Stress and other Illnesses
Again, ensuring the good health of your Leopard gecko by keeping it stress-free is the best way to prevent any issues. A strong immune system will help your gecko fight any infections or illnesses before they get too serious.
When To See A Vet
If there are accompanying symptoms or abnormal behavior with the pale discoloration that does not resolve itself within 3-4 days then you should see a vet. Watch out for rapid weight loss in addition to extend lethargy and appetite loss.
During shedding, it's normal for your gecko to be lethargic and lose its appetite but it should begin to bounce back 3-4 days after completing its shed.
Conclusion
Pale discoloration of a reptile's skin usually occurs in preparation for shedding as the old skin dries out and the color cells migrate to their new skin. If there are no shedding or other health issues, the color should come back after your gecko completes its shed. The best way to prevent health issues is to provide correct husbandry for your pet Leopard gecko.
FAQs
Why is my leopard gecko losing its color?
The most probable reason your Leopard gecko is pale is preparation for shedding. The old skin dries out and transfers its color cells to the new skin. However, other health issues may cause pale skin or discoloration like dehydration, stress, preparation for breeding season, fungal or bacterial infection, shedding issues, and heating problems.
Will my leopard gecko get its color back?
Yes, if the pale discoloration is associated with shedding, your gecko should regain its vibrant colors after completing its shed.
Further Reading
Short Article on Reptile Skin Construction, Infections, and Color:
Reptile Skin Basics
A Study on Reptilian Skin and its special characteristics:
Reptilian Skin and Its Special Histological Structures
Overview on Leopard geckos:
ADW: Eublepharis macularius: INFORMATION
Management and care of Leopard geckos:
Management, care, and common conditions of Leopard Geckos
Short article on care:
Leopard Gecko Husbandry and Nutrition
A study on UVB radiation and vitamin D3 synthesis:
The nocturnal leopard gecko (Eublepharis macularius) uses UVB radiation for vitamin D3 synthesis